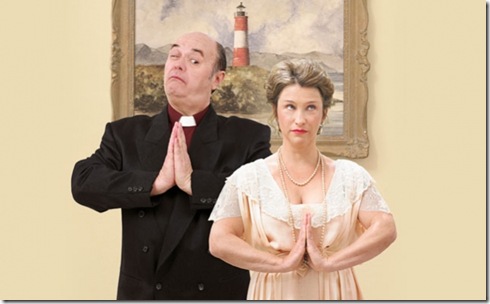 Andy Jones and Christine Brubaker. Photo Micaela Morey.
Actor/writer Andy Jones is extremely modest when he calls this version of Tartuffe, a loosely adapted and even more loosely translated version of Molière's 17th century satire of religious hypocrites . Molière's Le Tartuffe, targeted the spiritual guides obsessed with sin, originating within Jansenism, a religious movement of the period. There is much vicious anger in Molière's satire that goes for the jugular in no uncertain terms. Jones' magnificent text is pure comedy while keeping the original narrative, and more to his credit, by maintaining the rhyming form. He has not maintained the 12 syllabic verse form of the French alexandrine but his rhymes work very well and that is not an easy task. The result is a dialogue that is savoury, luscious, popular, vulgar, poetic, earthy, metaphorical, and a most exciting mixture of images and language levels.
The text is also laced with cultural references that define the whole of Newfoundland society as it unfolds around the family of Orgon. The falsely pious spiritual leader has been able to ingratiate himself into this family, thanks to the support of Orgon and his ultra-pious Mme Pernelle, Orgon's mother (Quancetia Hamilton, barely audible in Act I) and create a cozy niche where he can play his perverse little games. Jones' adaptation gives his own local Newfoundland language a literary status , similar to the way Michel Tremblay transformed joual into a poetic form of québécois French, henceforth establishing a legitimate form of Quebecois theatre culture. This Tartuffe almost becomes a founding theatrical text that highlights the popular speak of the Island. It is amazing.
This Tartuffe takes place In New found land in 1939, ten years before the colony became part of Canada. In this society where religion has traditionally played a strong role, Tartuffe is seen here as the leader of an unnamed cult. Orgon, a rich fish merchant, war hero and the husband of Elmire who has attracted Tartuffe's lecherous gaze, encourages Tartuffe to spend a lot of time alone with his wife and that is where his downfall begins. The flesh is weak, even for the most pious of men says Tartuffe as he wallows in the "filth of sin", and flagellates himself in his moments of most fervent passion, opening the way for a much lighter version of the play – it is a funny, boisterous, comedy that had the audience howling with laughter.
Patrick Clark's set design gives us a breathtakingly beautiful interior of a Victorian mansion with suggestions of the roof , the surrounding land and the sea shore with the sunset in the background. The structure towers over the stage, and becomes the striking symbol of Orgon's wealth and prosperity that goes back for generations. It becomes the glittering prize that has clearly bedazzled our hypocrite and enticed him to get his hands, not only on Elmire, but also on the family property.
Like Molière 's version, this character is a cruel deceptive sneak,, his theatrical posing is extremely effective and Jones' version of the French classic has respected the individual portraits. The image of this suffering holy man who almost leaves the family in ruins, is given a first rate performance by Andy Jones who immerses himself in the world of Tartuffe with his fawning smile, the painfully twisted face of one who is tortured by his need for purity, as his face becomes a mask that assumes all the appropriate moods. His performance of deceit and false pathos is excellent .
Opposite Tartuffe is Joey Tremblay as Orgon, the master of the house and naïve war hero. Tremblay plays his role with a near hysterical passion, which transforms him into a cruel father and religious fanatic. His performance touches a serious note, stirring up fear and even terror, as a person who is blinded by totally committed faith. Damis (Eric Davis) is a nervous, almost desperate hot tempered son who sees through Tartuffe's falsehoods and his performance is generally very effective.
While the battle rages with Tartuffe, Cleante, Elmire's brother( played by a refined, cool and always in control Dimitry Chepovetsky )try to make the father see reason. Petrina Bromley as the frank and outspoken maid Dorine, a theatrical stereotype of Molière's theatre, the first inkling of the unrest of the lower classes that suggests the coming of the French Revolution, 29 years later. She is the maid who is allowed to say exactly what she has on her mind, and stand up to everyone, even her master. Bromley performed an excellent mixture of saucy independence , free spirited comedy and reserve, all of which are important because Molière's servants with their "franc parler" still know their place. They would never dream of overstepping the appropriate class boundaries the way Beaumarchais' servants do. Her ironic asides, her in the face resistance that did not go too far, were perfect. Bromley was excellent.
The production is slick, fast paced , the actors work well together, showing us that the new English Theatre company is already a smooth running team.
At moments however, some scenes turn into near slapstick and that seems wrong. When Orgon announces his plans for his youngest daughter Mariane (Leah Doz) to marry Tartuffe, Leah Doz bursts into a strange rant, rushes around the stage in a fit of panic and makes several attempts to kill herself in an explosion of over the top comedy. There was also the howling and screaming that followed the moment when Damis son of Orgon reveals to his father how Tartuffe made a pass at his mother and Orgon turns against his son for inventing such stories as T Tartuffe launches into hysterics of religious fervour This gratuitous physical acting added by the director, seems to show a lack of control. When the physical comedy went too far, the play lost its theatrical rigour. We had the impression we were in a different play that had nothing to do with the well-crafted work in the preceding scenes.
Still, a good evening of fun and a surprising text that bears close attention. Tartuffe continues until November 12 at the NAC.
Tartuffe by Moliere; adapted and translated loosely by Andy Jones.
Directed by Jillian Keiley. :
Set Patrick Clark
Costumes Marie Sharpe
Lighting Rebecca Picherack
Musical director Doreen Taylor-Claxton
Andy Massingham Movement Coach
Heather Hill Dialect Coach
Cast
Joey Tremblay Orgon
Quancetia Hamilton Mme Pernelle
Eric Davis Damis
Leah Doz Marian
Petrina Bromley Dorine
Eliza-Jane Scott Filipote
Christine Brubaker Elmire
Dmitry Chepovetsky Musician
David Coomber Valère
Andy Jones Tartuffe
Sheldon Elter Leander Loyal, Officier….etc….
.