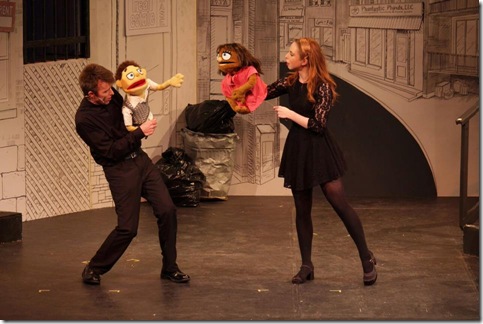 Photo: Allan Mackey/Valley Wind Productions
Gently racy and naughty but nice, Avenue Q is Sesame Street for adults stripped of politically correct sugar coating (thankfully).
The 2003 award-winning musical satire by Robert Lopez, Jeff Mark and Jeff Whitty wafts a skewer over a broad spectrum with such numbers as Everyone's a Little Bit Racist or What Do You Do with a B.A. in English?
The show is set in a rundown neighbourhood, populated by people and puppets of the Bert and Ernie and Cookie Monster muppet variety. The style and camaraderie of the long-running children's television show are evident, despite a disclaimer in the program noting that the Jim Henson Company or Sesame Street Workshop are not responsible for the content of Avenue Q.