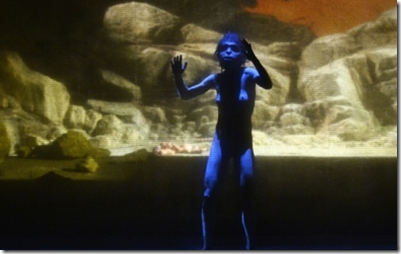 Photo: courtesy of the Festival TransAmérique
Go Down Moses, écrit, conçu et mis en scène par Roméo Castellucci. Une production de la Sociètas Raffaello Sanzio.

Toujours attiré par les textes fondateurs de la civilisation judéo-chrétienne, Castellucci a choisi le prophète Moïse, figure centrale de l'Ancien Testament, pour donner l'impulsion créatrice à sa réflexion sur les diverses manières d'appréhender les rapports entre les êtres humains.

Associée à la libération des opprimés, qu'ils soient des esclaves juifs en Égypte à l'époque biblique ou des esclaves africains dans le nouveau monde (la source, célèbre negro-spiritual etats-unien, est mise en évidence dans le titre), la figure de Moïse ouvre toutes les possibilités culturelles, historiques, religieuses, philosophiques et iconographiques pour structurer un événement dans un espace libéré de la matérialité contraignante de la scène. Ainsi, on dirait qu'il souhaite rassembler un bilan des activités culturelles en s'ouvrant à toutes les époques et toutes les formes de création: la culture populaire, des récits télévisuels, des enquêtes policières, des aventures spaciales, une intermédialité cinéma-théâtre, et même des origines de la tragédie grecque (Eschyle) dont l'Orestea, una commedia organica, présenté par Castellucci au FTA en 1997, était déjà l'exemple le plus troublant.