Plosive theatre at the Gladstone
News from Capital Critics Circle
Taylor Stewart  in the Theatre Criticism class of Patrick Langston.
Voices from the Front: The Radio Show is a pure, emotional power house that commemorates the brave men and women of the Canadian military. It delivers a performance as powerful as a a service at a Cenotaph yet is wholly different.
The show was written by John Cook and Teri Loretto-Valentik from the letters of Canadian Soldiers during World War I and II. This is a piece of verbatim theatre, meaning the majority of the text is preserved as it was written by the individuals who originally wrote the letters; however, they have been added to for the purpose of a flowing narrative or filling in details that would add to the fiction of the show. Using these letters Cook and Loretto-Valentik have created the characters of Will Cooper and his son, Wilfred Cooper. The two are enlisted men serving in WWI and WWII, respectively. The show consists primarily of the actors reading the letters that Will and Wilfred have written to their families. (more…)
17
Nov
Posted:
November 17, 2017 Friday at 8:55 am
Reviewed by James Murchison
The annual radio show at the Gladstone theatre returned to Ottawa this week. This year we were told that the radio play would be somewhat different and it was. The timing of the production coincides with the week of Remembrance Day and commemorates the centennial of the battles of Vimy Ridge and Passchendaele. Much of what is liked about this production is still there. Set designer Ivo Valentik has the familiar pieces of the radio station CGLD all there, decorated with adornments of the era tucked into the corners: A vintage cigar box and a soldier's helmet inform us that this is war time. (more…)
10
Nov
Posted:
November 10, 2017 Friday at 12:51 pm
Reviewed by Iris Winston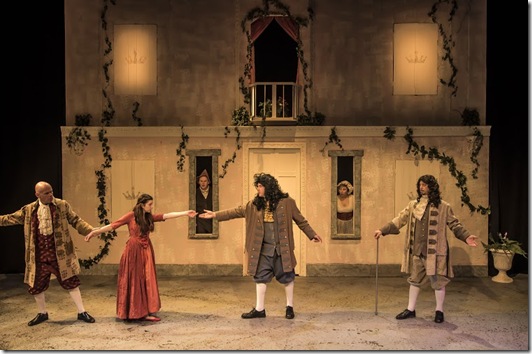 Photo. Erin Finn
There is good and bad news about the production of Molière's The School for Wives that opened at the Gladstone Theatre on September 12.
The good news about the SevenThirty/Plosive Productions co-pro is that it is beautifully directed, well choreographed and features some strong performances, particularly from Andy Massingham, all in keeping with the period and form.
The bad news is that the translation by David Whiteley, while generally retaining the rhythm of the Alexandrine style of verse, is vulgar and jarring. Too frequently, modern colloquialisms, minor swear words and out-of-place slang scream irreverence for a classic and the inappropriate wording all but kills John P. Kelly's fine staging.
13
Sep
Posted:
September 13, 2014 Saturday at 12:43 pm