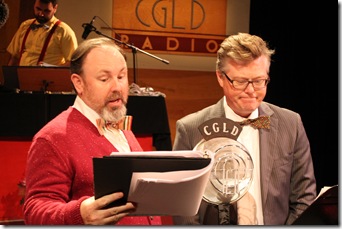 Photo: William Beddoe.  Chris Ralph (Winnie) and David Gerow (Eeyore)
There's something decidedly inviting about the shared pleasure of spending time with Winnie The Pooh and his friends.
So you're conscious of a strong sense of community when you arrive at the Gladstone Theatre for Plosive Productions' latest Christmas bow to the glory days of radio.
In this instance, it's a simple matter of audience members engaging in a special way with the people at the microphones. And the task of Winnie-the-Pooh: The Radio Show is to recreate through voice and a bit of body language the magical world created by author A.A. Milne in his Pooh Bear tales.