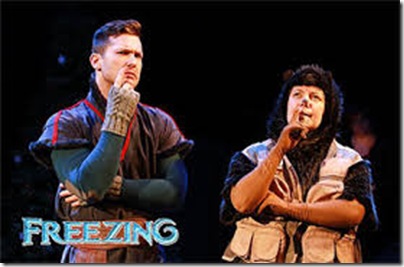 Photo: Courtesy of Matt Cassidy
British Pantos are not unknown to Ottawa audiences. Ross Petty and his super-slick group of dancers, singers, actor's choreographers and writers of witty dialogue used to bring us their special versions of fairy tales to brighten our Christmas fun. These tales, reworked to fit the contemporary taste for parody, satire, and all kinds of naughty suggestions for the whole family that respected the particular conventions of the Panto, were regular features at the National Arts Centre. Then suddenly they stopped coming and we never understood why.
Now producers Matt and Sarah Cassidy have decided to bring back their version of the family panto to Ottawa and take up the lost tradition which Ross Petty and his collaborators introduced here many years ago. This company is made up of professionals who have been working in Toronto but many of them are originally from Ottawa. They have decided to make Ottawa their home as they work out their vision of what these new Pantos could be. Freezing is an example of this new musical narrative aimed at the whole family but drawn from childhood memories about living through cold Canadian (Ottawa) winters and revelling in the snow, the ice, hockey, and all the winter activities that made life so magical.