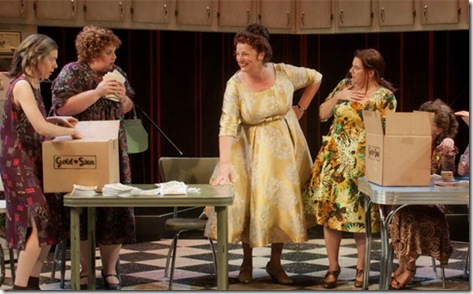 Photos .Courtesy of the National arts Centre
The NAC English Theatre is closing out their season with the musical "Belles Soeurs." Based on the Michel Tremblay play, the book and lyrics are by Rene Richard Cyr who also directed, with the English book adapted by Brian Hill. The music is by Daniel Belanger with English lyrics, musical adaptation, and additional music by Neil Bartram.
Michel Tremblay's play, first produced in 1973, has become a Canadian classic that has been produced all over the world in over 30 languages. It tells the story of Germaine, winner of one million trading stamps, and the stories of her friends and relatives who she has invited to a party to help paste the stamps into books. These are all Quebecois women, unhappy with their lot in life and uncomfortable with the changing times. Germaine's daughter Linda wants to fit in with the new ways and bonds with Germaine's estranged sister who works in a club. We gradually learn about all of their lives.