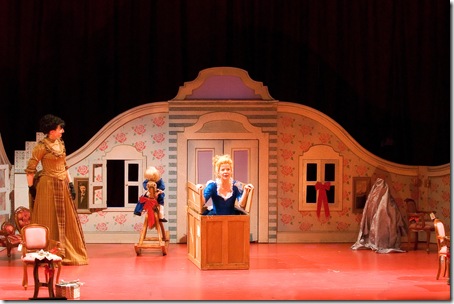 L.to R. Janet Girardeau, Maude Mitchell
After nine years on the road, Mabou Mines' DollHouse, conceived and directed by Lee Breuer, arrived in Boston on November 1. The week's run at the Cutler Majestic brought this marathon tour to an end. As a fan both of Ibsen and cutting edge theatre, I had been looking forward to the event with great anticipation.
For the most part this "concept" version of the play lived up to my expectations. Unlike other stylized Doll Houses, which look for relevance by contemporizing the play – such as German director Thomas Ostermeier's 2002 production in which the Helmers live in a chic modernist apartment and Dr. Rank suffers from AIDS – the world of Breuer's Nora is fixed in the late nineteenth century. From her blonde bouffant hairstyle to her blue bustled dress, Nora looks the picture of her time as she munches her macaroons, confides in Kristine Linde, and flirts with Dr. Rank.