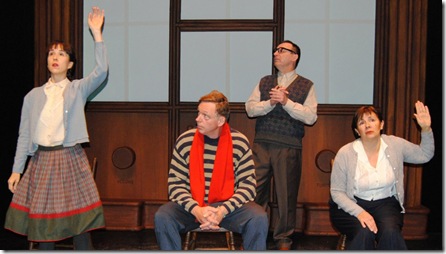 Photo: Barb Gray
On one level, GCTC's sterling production of Angel Square might seem to offer no more than a series of impressions of a particularly beguiling kind.
But they're impressions that beautifully evoke another time and place — Lowertown Ottawa in the 1940s. And out of them there emerges a delightful stage work of genuine shape and substance.
It's through the prism of an observant youngster named Tommy that these moments unfold. Even if we weren't actually there ourselves, we find ourselves engulfed in his childhood world. And its components resonate with us today.
It's a world of Woolworth stores — remember them? — with creaking wooden floors. Of Ottawa's majestic Union Station, now an underused government conference centre, but in this production exerting a ghostly remembrance of things past, courtesy of designer Jock Munro.