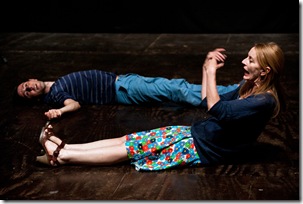 Photo: Reality by Silvia Gelli.  Guest reviewer Martin Morrow (Globe and Mail, CBC )
Produced by A.D.Written, directed and performed by Daria Deflorian and Antonio Tagliarini.  Presented by Festival TransAmériques
The morning after seeing Reality and Ce ne andiamo per non darvi altre preoccupazioni, two works by Italy's Daria Deflorian and Antonio Tagliarini at this year's Festival TransAmériques in Montreal, I bumped into the festival's artistic director, Martin Faucher, at the popular Pikolo espresso bar near Place des Arts.
As we waited for our coffees, we shared our similar thoughts on the two shows – how they were full of warmth and intimacy, and enticing in their apparent lack of artifice and their direct engagement with the audience. I called them post-theatre. Faucher, perhaps more accurately, referred to them as post-Pirandellian. After all, Deflorian and Tagliarini go beyond their great Italian forerunner, Luigi Pirandello, in turning the creative process into the play itself.
Reality begins with Deflorian and Tagliarini taking turns trying to act out the death by heart attack of an elderly woman on the street – each absurd attempt showing just how difficult it is to pin down that elusive quality, "realism." And the woman whose demise they are trying to imagine is Janina Turek, a prolific diarist from Krakow, Poland, who had a magnificent obsession with the real.