Guest reviewer, Jim Murchisson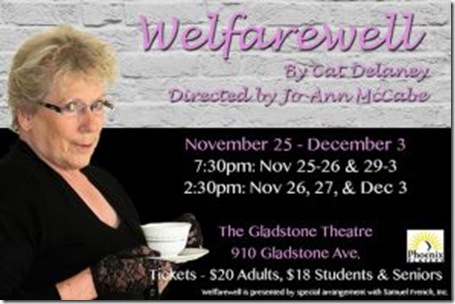 Photo: Phoenix Players. IEllen Clare O'Gallagher  in Welfarewell.
It was a cool, dank Friday evening as I headed into the warmth of the Gladstone Theatre to see the Phoenix Players production of Welfarewell. As I entered into the theatre I was greeted by a cozy, economical little set made up of three primary playing areas: stage left a table and chairs serve as various meeting areas (rehearsal hall, police station, holding room, etcetera) centre stage is used primarily as a jail cell but doubles as a courthouse with minor adjustments and the stage right space works well as a tiny basement apartment or bank teller's area.
The premise of the play is pretty interesting as it goes. An aging actress can no longer make ends meet and strategizes to commit a crime, anticipating that she might enjoy a better quality of life in prison in her waning years. Playwright, Cat Delaney inserts Shakespeare, liberally ensuring that there are some great lines in this play, but she does not meet the challenge of matching the power of Shakespearean dialogue with her own.
The problem is that Cat Delaney's characters are sadly stereotypical. You have the feeling that this was written by someone observing poor souls from a suburban window and dropping a loonie in their hat while looking the other way. The result is a play of middle class indulgence rather than social relevance.