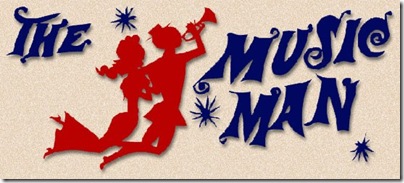 Sign for the production.
The Suzart slogan of "If you can dream it, you can do it" is a partial explanation of the reason that the company is successful in mounting ambitious, large-cast musicals that aim to entertain whole families on stage and off.
In the case of Meredith Willson's 1957 musical The Music Man, director Kraig Paul Proulx, supported by musical director Mark Allen, the always resourceful set designer Elaine McCausland and costume designer Ingrid Hunt, brings a delightful warmth to the story of con man Harold Hill.
Hill's goal of cheating the townsfolk is tripped up by romance, while he promotes the "think system" to develop a band. Strange to tell, after a summer of dreaming it, the band members find they can do it.