communiity theatre
Reviewed by Jamie Portman
There are understandable reasons that Elizabeth von Arnim's 1922 novel, Enchanted April, is enjoying a renewed lease on life.
Perhaps the most obvious in this day and age is the fact that one can detect early tinges of feminism in this story of four British women of various ages and backgrounds who boldly assert their independence and team up for an idyllic holiday in an old castle in sunbaked Italy.
But other durable factors are also at play here. It is an engaging tale. It is peopled by four interesting and believable female characters. Finally, in its successful transfers to film and stage: the material has offered a bouquet of splendid acting opportunities. (more…)
09
Nov
Posted:
November 9, 2017 Thursday at 8:46 am
Reviewed by Jamie Portman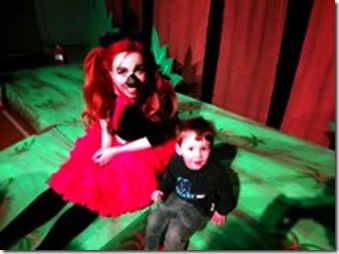 Photo. Andrew Simon . Squirrel with Thompson.
Be A Friend, the delightful children's mini-musical that is Orpheus Theatre's Yuletide gift to the community, knows how to communicate with its young audiences. It doesn't talk down to them as it tells the story of a lonely skunk named Sammy and his search for a friend. Without being the least bit preachy, it delivers an effective message against prejudice and for accepting people who are "different." The opportunity for audience participation is built into Iris Winston's lively and imaginative book, which is based on her award-winning play, Let's Be Friends. And a further trump card comes from the songs with their nifty lyrics by Gord Carruth and engaging melodies from Carruth and Bart Nameth.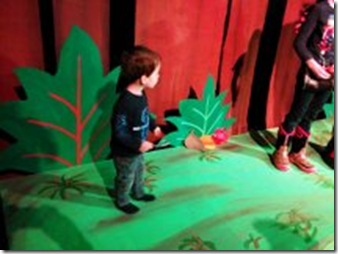 Same little fellow discovers the set..Photo: Andrew Simon
22
Dec
Posted:
December 22, 2013 Sunday at 1:01 pm
Reviewed by Maja Stefanovska
It may not be the best musical you will ever see, but Orpheus Theatre's Dirty Rotten Scoundrels, directed by Shaun Toohey and adapted from the Jeffrey Lane book and Frank Oz movie by the same title, will leave you with a skip in your walk and a hum to your talk by the end.
The musical comedy has much going for it. After all, it is set in the ever-glamourous French Riviera and  offers a story rife with drama, comedy and romance centered around the adventures of two mismatched con-men. Add to this an ensemble  of fun-filled, if slightly forgettable songs, and you'll be bouncing in your seat.
06
Jul
Posted:
July 6, 2011 Wednesday at 4:48 pm