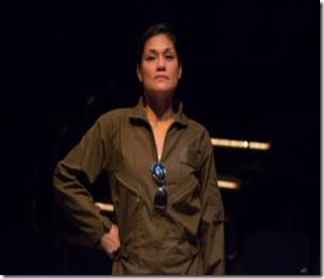 Photo: A. R. Sinclair.  Celeste Oliva
George Brandt's Grounded is a highly political one-woman show that tells a direct and complex story of the new role of women in warfare. The character's symbolic aspect is emphasized by her lack of a name. She is simply The Pilot. The play is expressionistic in style in that the audience viscerally experiences her inner world. No opposing view exists.
The character, wonderfully played by Celeste Oliva, has risen to the rank of Major as a fighter pilot engaged in air to ground warfare, a role in which she takes enormous pride and pleasure. Flying in the "blue," as she calls it, killing "the guilty," in this case young male Iraqis, makes her feel righteous, "part of the sky," administering punishment like a god.