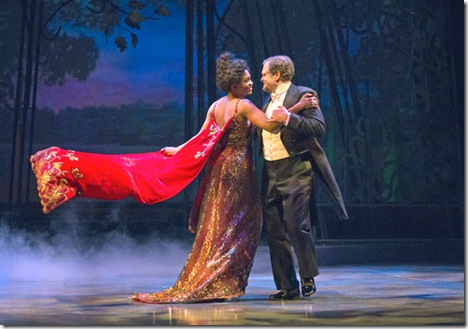 Photo: David Hou. Yanna McIntosh and Ben Carlson.
There's an undeniable air of confidence in the Stratford Festival's new production of A Little Night Music. It's there in the sumptuous look of the show. It's there in the assurance with which the performers meet the complex demands of Stephen Sondheim's music and lyrics and in the sublime work of the orchestra under the baton of Franklin Brasz. And it's there in the way the show is staged by Gary Griffin, a director who knows exactly what he wants.
But has Griffin really brought this fabled musical about mismatched relations and tangled passions to the right place, creatively and emotionally? That seems debatable, but the production now at the Avon Theatre nevertheless provides moments that do qualify for the memory books.
As always, Send In The Clowns is the song that everybody is waiting to hear. It's very familiarity provides a comfort zone for theatre goers, especially those who are less than total cheerleaders when it comes Sondheim's work. But how often does this song grasp us by the throat and force us to confront what Sondheim is really saying in those sad, rueful lyrics?
Well, actress Yanna McIntosh does know how to engage our attention. There's a quiet power in her rendition of this song. Technique remains invisible, but not the impact of her character's bitter-sweet act of self exposure.
That character is Desiree, a formidably self-assured and self-absorbed actress for whom the pursuit of pleasure has been a life-long vocation. By the time McIntosh's Desiree gets to sing Send In The Clowns, we all ready know her so well that the song has additional resonance. And we know Desiree this well
because McIntosh has brought out her elegance, wit, penetrating intelligence and quietly assured sexuality.
Some lovers of Send In The Clowns may prefer a Desiree who is more experienced musically, but the song calls for an actress first and foremost. The role was created on Broadway by Glynis Johns, an actress. The first London production starred Jean Simmons, an actress. Judi Dench, a great actress, had an autumnal triumph as Desiree in an otherwise mediocre National Theatre revival of A Little Night Music. The Shaw Festival production starred the late Goldie Semple, a superb actress. And now at Stratford, we have Yanna McIntosh, an exceptional actress who gives us a Desiree who is both worldly-wise and world-weary.
Desiree is a remarkably resilient human being, but here her equilibrium has been disturbed with the re-emergence in her life of an old lover, Fredrik Egerman, portrayed here by Ben Carlson as a man in affable denial about the advance of middle age and the problem of an 18-year-old trophy wife who remains a virgin after 11 months of marriage.
Sondheim, an artist whose output has repeatedly reflected his personal doubts about the reality of relationships that last, essentially sought to create a stylish period musical about sexual musical chairs. And he and book writer Hugh Wheeler found inspiration in Ingmar Bergman's Smiles Of A Summer Night, a sly and knowing comedy that was once banned in Alberta because of its alleged decadence.
The resulting musical stands alone in the annals of Broadway theatre. And the premiere production benefited enormously from the involvement of Harold Prince, a director who brilliantly communicated its wry and cynical beauty and ensured the right emotional climate for Sondheim's brilliant lyrics and an audacious score composed largely in three-quarter time.
Yanna McIntosh is one of the people in this new Stratford production that gets the sensibility of the material right. But as events move to a weekend in the country, and relationships go off in new and unexpected dimensions, it's not all sexual frivolity. There are also aching needs lurking beneath the fun and games — and we need to believe in them.
Sondheim originally wanted A Little Night Music to be a chamber musical. One of the miracles of Hal Prince's original production was that he managed to make it look like a small-sized chamber musical, even though it was in a big Broadway house. The Shaw Festival's excellent 2008 production, embracing the premise that small is better, happened in the intimate Court House Theatre, and the result was sublime.
Gary Griffin's production at Stratford's 1100-seat Avon Theatre looks and feels like a large-scale show, and this subjects the material to some unfortunate tensions.
There is no denying the visual impact of designer Debra Hanson's contribution. Her costumes are luscious, perhaps the most gorgeous to show up on a festival stage in many a year. But her sets are more problematic. Her use of portraiture so gigantic that it fills the stage threatens to dwarf the passing human show. Those bizarre chimney stacks in the first half of the show look more like giant rejects from a canning factory. And when Hanson turns rustic, even her vision of a gated country estate seems not so much overwhelming as overbearing.
So this is not an especially delicate treatment of A Little Night Music. There's even an unusual aggressiveness in the work of the small chorus that keeps popping up to comment knowingly and delectably on the action.
Granted, this is a tough-minded show in what it has to say about the betrayal of innocence and the damages that lovers can do to each other, but paradoxically it is also a show spun from gossamer. It needs restraint in execution.
The material is also character-driven. So need Alexis Gordon, a likeable performer, be quite so much of a vacuous bubblehead in her portrayal of Fredrik's 18-year-old wife? And couldn't an appealing young actor named Gabriel Antonacci get beyond mere caricature in his portrayal of Fredrik's son Henrik, a tormented puritan consumed by lust for his stepmother? Then there's Juan Chioran, very funny indeed as another of Desiree's conquests — a duel-happy count driven to strutting stork-like rage when he finds an arch-rival for her affections in the unflappable Fredrik. One suspects that Chioran — who's good at playing blockheads — could also be excellent as Sergius in
Shaw's Arms And The Man — but here he's so over-the-top that he becomes a Ruritanian fantasy villain.
On the other hand, Cynthia Dale brings a bell-like singing voice and an amusing, tart-tongued authority to her portrayal of his countess. That fine actress, Rosemary Dunsmore, is an elegant symbol of survival in the role of Desiree's mother, Madame Armfeldt, and Kimberly-Ann Truong beautifully brings out the innate maturity of Desiree's daughter, Fredrika.
And finally there is knockout work from Sara Farb as the carnally-driven maid Petra. Her stellar performance of that hymn of sexual defiance, The Miller's Song, is a production highlight and also an important reminder of how much a character-based musical A Little Night Music really is. Could this really be the actress who's also playing Lucy this summer in The Lion, The Witch and The Wardrobe? See her, and marvel.
(A Little Night Music continues to Oct. 23. Ticket information at 1 800 567 1600) or stratfordfestival.ca)