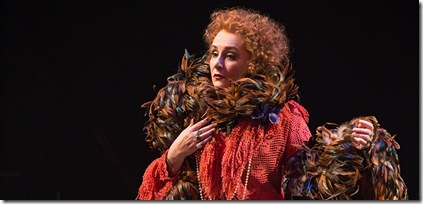 Seana McKenna as the Madwoman. Photo by Cylla Von Tiedemann
STRATFORD, Ont. — The stage of the Tom Patterson Theatre has become a fantasy place — of colourful jugglers, exultant wordplay and somersaulting paradoxes, of imaginary dogs, lifeguards who can't swim, cops with a weakness for cribbage — and a madwoman who isn't mad.
Seana McKenna, who has the title role in the Stratford Festival's new production of The Madwoman of Chaillot, gives us a character who confidently exists in her own reality — or is it her own unreality?
The flamboyant costumes designed for her by Teresa Przbylski certainly reflect a certain dotty elegance, but it is ultimately McKenna herself who really brings this quality into topsy-turvy focus with her performance as Aurelie, the Madwoman of Chaillot.
It could be argued that only within the fanciful mind of a playwright like Jean Giraudoux could someone like Aurelie take shape. But unless an actor portraying her is very careful, preciousness can outweigh substance. So there is an undeniable pleasure in watching McKenna adroitly navigate her way through potentially treacherous waters. Aurelie's eccentricities don't seem imposed — when she fusses about a missing boa from her wardrobe, the comedy seems to arise naturally out of the character McKenna is defining for us.
She's capable when necessary of taking an unblemished view of life — which is why her ire is aroused when a quartet of capitalist thugs (Ben Carlson, Rylan Wilkie, David Collins and Wayne Best) threaten her beloved Paris with their proposal to drill for oil under the city. But, in language written in the closing months of the Second World War, she can still conjure up fairy dust in order to sustain her vision of life. "How," she asks in disbelief, "can you put up with a world in which you're not happy all day long?"
Still, how happy — ultimately — can we be with this revival? As the evening progresses, we increasingly become aware of how long a play The Madwoman Of Chaillot is — almost three hours in fact — and of narrative absurdities as insubstantial as cotton candy. Director Donna Feore may not seem totally at ease with the in-the-round demands of the Patterson, but she ensures a reasonably lively first act that celebrates language for its own sake — or, as Kenneth Tynan once remarked, offers "prose exulting in its own versatility." There's undeniable pleasure when someone comes out with a remark like: "Take a look at yourself — not in the mirror because it lies." However, delicacy is not quite the word you'd apply to much of this production despite an engaging new translation by David Edney.
Given the subject matter, a contemporary revival can't avoid being environmentally-driven, but Stratford's treatment can scarcely be considered subtle. The play's villainous capitalists emerge as snarling, overdone caricatures' so we're being primed early on for them to receive their just desserts at the hands of the Madwoman and her friends.
Furthermore, the second act sees proceedings turn into something of a slog as it abandons the delights of the Cafe D'Ala for a bizarre setting which, in this production, suggests the clutter of an indoor flea market, complete with grimy bathtub in one corner.
The play's language must be allowed to ravish the audience if it is to remain airborne, but matters remain rather earthbound as we meet the city's other "madwomen" — two portrayed with dutiful eccentricity by Kim Horsman and Marion Adler, the other smashingly rendered in a performance from
Yanna McIntosh that is more than dutiful. Still the talk and the preciousness can become tedious — and this is even before the act's big set-piece sequence — a mock courtroom scene in which these beastly capitalists are tried in absentia, with Scott Wentworth, terrific as Aurelie's unlikely ally, The Ragpicker, knocking himself out in that remarkable monologue in which he assumes the mock role of a capitalist exploiter prowling the stage in proud defence of his calling.
However, none of this is sufficient to keep us from wishing that it would end — that it's time for the corporate villains to show up so that the Madwoman can play on their greed and lure them into some kind of bottomless hell and lock them away for good. But how content will such a climax leave audiences in the year 2017? The play has long been famous for the audacity of its climax — but these days, it's harder to overlook the fact that the purported bad guys are the victims of the Madwoman's version of vigilante justice. After all, as Guardian critic Michael Billington once observed, this is a play that "whimsically sanctions murder."
For some reason a lot of theatre people continue to have an inordinate affection for this play. One wonders why.
(The Madwoman of Chaillot continues to Sept. 24. Ticket information at 1 800 5671600 or stratfordfestival.ca)