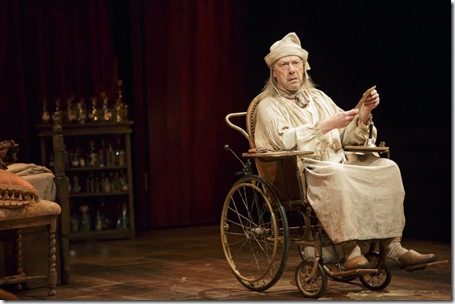 Photo: David Hou  Stephen Ouimette as Argon.
Le Medecin Malgré lui (The Hypochondriac) by Molière. In a new version by Richard Bean from a literal translation by Chris Campbell, directed by  Antoni Cimolino
STRATFORD, Ont. —  Initially, nothing much seems to be happening when the lights go up on the stage of the Festival Theatre. There's just Argon, this bedraggled creature in a grubby nightgown, painstakingly going through a pile of papers that turn out to be bills for medical treatment. But as Argon goes through these documents,  on occasion almost fondling them with indecent affection, it becomes clear that these billings are mainly in the service of one  preoccupation — the state of his bowels.
By this time we should also be conscious that he's enthroned on a commode, intent on passing a stool while he does his paperwork. Indeed, it won't be long before he's checking its contents — and this very act signals rapture more than than it does revulsion.
We're also becoming conscious of veteran actor Stephen Ouimette's brilliant way of  using detail — the tiniest of detail — as his building blocks. It's his way of bringing to life the character of the vain, ludicrously self-absorbed Argon in the Stratford Festival's production of The Hypochondriac.
Understand that this is Moliere's La Malade Imaginaire that we're supposed to be getting. However, the 17th Century French master's indictment of medical mumbo-jumbo is here filtered through the sensibility of British playwright Richard Bean whose anally-fixated adaptation invites the kind of comedy, particularly physical comedy, that embraces the outrageous. So perhaps it does merit a different title.
Meanwhile, be prepared for lavatory humour — albeit with style. Characters on stage may recoil when they get a whiff of the contents of Argon's chamber pot, but that's proof that Antoni Cimolino's subversively funny production isn't flinching from the demands that the Bean version imposes. So characters do drink urine both deliberately and accidentally. And there is endless comedy to be wrung from Argon's intestinal problems — maybe constipation, maybe irritable bowel syndrome, and does it really matter, given Bean's scatological interpretation of what was really on Moliere's mind?
When  Ouimette's Argan is not in frantic need of a chamber pot, he'll be treating himself himself to an enema —  courtesy of an apparatus conceived in this production by designer Teresa Przybylski as some sort of nightmare Rube Goldberg contraption  that might seem more suited to an elephant than to this skinny, anally obsessed fool.
There are inevitable sexual connotations in the grotesquely orchestrated enema sequence, and it's not unreasonable to ask — is this really Moliere? More seriously, is the currency of La Malade Imaginaire, indeed of Moliere himself, being devalued?
Perhaps not. It could be argued that Moliere's last play is essentially a one-joke enterprise. It certainly lacks the depth and dimension of a masterpiece like Tartuffe — so why not mess about with it?
In any event — given that the festival has resolutely nailed Le Malade Imaginaire to the unapologetic Richard Bean mast — the end result  remains solid in its production values.
Bean's version strips the original of its its original balletic accessories. And, unless  I'm mistaken, it also dumps Moliere's epilogue. Meanwhile, Cimolino's Stratford production is throwing in its own conceit of a period entertainment being mounted for the edification of King Louis XlV — so before the performance formally begins we have costumed actors cavorting noisily about the stage in preparation for the regal arrival. This kind of device is getting a bit tiresome — less so here than in the festival's production of As You Like It, but still failing to prove its value or its necessity. We only start caring when Stephen Ouimette begins taking command of the stage as Argan.
He is a ludicrous character as he coughs revoltingly into a grubby handkerchief, gazes fondly into a chamber pot, and contemplates a glass of his own urine as though it were a nectar of the gods. Illness — no matter how imaginary — is his life's anchor. Such is the pitiful paradox of his existence, an existence so contained by his own self-absorption that he is unaware of the quacks and schemers who prey on his gullibility.
Because of Ouimette, The Hypochondriac remains firmly a comedy of character, no matter how insistently the grotesqueness of situation threaten to supplant it. And there is a tragic-comic dimension in the way he clings to imaginary afflictions: in them, rather than in people who care about him, lies his own personal reality.
Cimolino's nimble, stylish production uses the Festival Theatre stage adroitly. Teresa Przybylski's design contributions dutifully serve the needs of this particular material in all its excesses, and composer Berthold Carriere (and how nice to have him back at Stratford) delivers a sprightly musical contribution. Most importantly, the work of the cast is admirable in meshing seamlessly with Ouimette's centrepiece performance — and this is a tall order for some actors given that Bean's adaptation gives them little but crude caricature to work with.
Brigit Wilson is a delight in a familiar Moliere role — that of the rude, knowing maid who tries to make her stubborn master see sense. Trish Lindstrom plays Argon's scheming, mercenary wife, and she manages to make a thankless piece of one-dimensional writing seem more substantial than it really is. Shannon Taylor, as Argan's beleaguered daughter, and Luke Humphrey, as the unsuitable young man she wants to marry, have some comically charming moments together. And there is marvellously engaging work from Ben Carlson as Argan's pragmatic brother, Beralde, who struggles to make his maddening sibling see sense.
Ian Lake deserves extra points for his portrayal of the fawning medical fraud that Argon wants his daughter to marry. Decked out in a bizarre wig and mouthing  idiocies, Lake emerges as a credible dolt, despite being so crudely drawn in Bean's translation that he even has been given a yukky new name. Instead of Thomas Diafoirus, it's Thomas Diafoirerrhoea. And guess how it's pronounced. There's also Peter Hutt as Thomas's blindly adoring parent: it's the sort of dependable performance that you get from long-time company members, a mark of the high ensemble quality that Stratford will bestow on material even as undeserving as this.
(The Hypchondriac continues at the Stratford Festival to Oct. 14. Ticket information at 1 800 567 1600 or stratfordfestival.ca)