Photo: The 25th Annual Putnam County Spelling Bee. The Thousand Islands Playhouse, 2013. Photography by Mark Bergin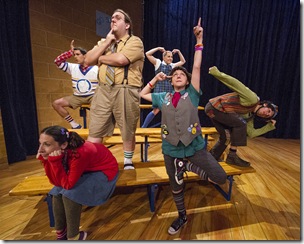 A very entertaining and fast moving production of the musical THE 25th ANNUAL PUTNAM COUNTY SPELLING BEE has opened at the 1000 Islands Playhouse. With music and lyrics by William Finn and book by Rachel Sheinkin, Rebecca Feldman and Jay Reiss, the format is that of an actual spelling bee with six young contestants plus four volunteer contestants from the audience. It's the only show I've ever seen where using audience volunteers really works. There's also a female organizer, the Vice Principal as the judge and Mitch, who's working out his community service sentence by offering comfort to those eliminated.
As for the spelling bee itself, the word definitions are a riot, as are their usage in sentences. The biographical comments of Miss Peretti, the organizer, such as "She comes to us from Our Lady of Intermittent Sorrows," produce giggles, as do many of the songs. I'm not going to quote any more, as I don't want to be a joke spoiler.
Lindsay Ann Black's practical set consists of moveable bleachers, a judge's table and a banner. There's also a translucent window stage left through we catch glimpses of the band. Michelle Ramsay's imaginative lighting helps set the imagined scenes apart and Robin Fisher's costumes are very good, particularly Logainne's outfit and Leaf's helmet.
This is a very strong and balanced cast. Michael Spencer-Davis is very good as Vice-Principal Panch. He has a perfect touch of twinkling-eyed snarkiness. As Miss Peretti, Kristin Galer sings beautifully. An accomplished comedienne, she makes the most of her biographical notes on the contestants and her solos. Michael Lamont-Lytle is excellent as the comforting Mitch and as one of Logainne's two Dads. He's also got a great voice and his solo "Prayer is terrific.
Alison MacDonald does a believably perky job as the lisping Logainne, an over-achiever with two Dads, while Nicole Norsworthy performs some astonishing feats during her song. Eric Morin is good as Chip, the former champion. He's very funny at the beginning of Act II and in his solo song with the unmentionable title.
Typical of William Finn's writing, the songs are complex both musically and lyrically. In this cast of first-rate singers, we get every word. Andrew Kushnir plays the home-schooled Leaf with eccentric believability. His song "I'm Not That Smart" is hilarious. He's obviously a good actor as his performance as Logainne's other Dad is truly three-dimensional.
Piper Goodeve is a lovely and vulnerable Olive, whose Father never shows up and whose Mother is in an Ashram in India. She, Miss Galer and Mr. Lytle do an impressive job on the "I Love You" trio. As Barfee, who insists his name should be pronounced Bar-FAY, Benjamin Kyte with his over-educated tongue is a hoot, especially in his "Magic Foot" number. He and Olive do a splendid job with their love scene, duet and pas de deux.
Music Director James Smith has done a fine job with both the solo and ensemble numbers. The 3-man band with Mr. Smith on piano, Greg Runions on drums and Chris Alfano quadrupling on alto sax, clarinet, flute and oboe sounds great. Shelly Stewart Hunt has done a terrific job with the clever and inventive choreography. During almost every number I wrote down "good choreography."
Director Ashlie Corcoran has done a fine job of staging and directing. I like the surprise appearance of the religious figure. (I don't want to give it away.) This is also the first production I've seen where the staging makes the Epilogue work. Best of all, the characters are three-dimensional. Even though they represent specific types, they're believable as individuals. All in all, the show is just plain fun.
1000 Islands Playhouse, Gananoque ON through August 31 Tkts: 613-382-7020
TH 25th ANNUAL PUTNAM COUNTY SPELLING BEE Book by Rachel Sheinkin, Rebecca, Jay Reiss Music & Lyrics by William Finn
Director: Ashlie Corcoran
Music Director/Piano: James Smith
Choreographer: Shelly Stewart Hunt
Set: Lindsay Ann Black
Costumes: Robin Fisher
Lighting: Michelle Ramsay
Sound: Michael Laird
CAST
Rona Lisa Peretti: Kristin Galer
Olive Ostrovsky: Piper Goodeve
Leaf Coneybear: Andrew Kushnir
William Barfee: Benjamin Kyte
Mitch Mahoney: Michael-Lamont Lytle
Logainne SchwartzandGrubenierre: Alison MacDonald
Chip Tolentino: Eric Moran
Marcy Park: Nicole Norsworthy
Vice Principal Douglas Panch: Michael Spencer-Davis