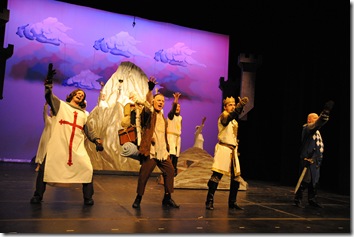 Photo credits: Valleywind Productions/David Pasho.
Hard to tell who was having more fun on opening night of Orpheus' hilarious production of Monty Python's Spamalot: the audience or the cast.For sure, each fed off the other as the unabashedly silly musical about King Arthur and the search for the Holy Grail unrolled, in the process skewering everything from the Arthurian legend itself to political correctness and the tradition of the Broadway musical.
Orpheus' male ensemble – too often the weak link in community musical theatre productions – is especially strong here. Rejean Mayer rings in a consistently lively performance as Patsy, King Arthur's put-upon pack horse of a servant. Notable also are the limber J. Taylor Morris (Not Dead Fred, among others), Shaun Toohey (the cowardly knight Robin), and several others.
Thomas Franzky has the required vocal chops as King Arthur but not the commanding stage presence to play a king whose problem is, ironically, complete ineffectuality.
Among the female performers, Andrea Black, although straying off key more than once on opening night, has the glam quotient needed for her roles as the Lady of the Lake, Queen Guinevere, Cher (don't ask: this is Monty Python) and others.
Artistic director Bob Lackey keeps the pace hopping and with choreographer Christa Cullain cooks up some smart and very funny staging.
Also noteworthy: John Solman's good-humoured lighting design and Jennifer Donnelly's cartoon-like Pythonesque set.
Continues until March 16 at Centrepointe Theatre. 613-580-2700, orpheus-theatre.ca
Monty Python's Spamalot
An Orpheus Musical Theatre Society production
Book and Lyrics by Eric Idle. Music by John Du Prez and Eric Idle.
Artistic Director
Bob Lackey
Musical Director
Terry Duncan
Choreographer
Christa Cullain
Set Designer
Jenn Donnelly
Costume Designer
Joy Lackey
Lighting Designer
John Solman
Sound Designer
John Cybanski