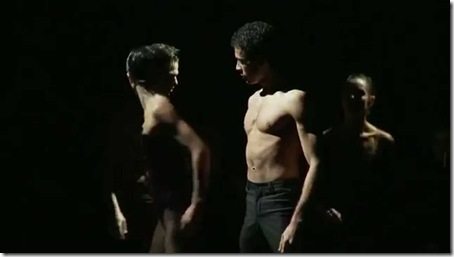 Photo (promotionnelle) © (The Seasons) Édouard Lock.
https://www.youtube.com/watch?v=H-uwuH_Qix4  Norman McLaren, Pas de deux (1968)
The Canadian premiere of this Brazilian Dance Company – the São Paulo Companhia de Dança – at the National Arts Centre, offered three pieces each by a different choreographer. The Seasons by choreographer Edouard Lock, whose work is well known on the stages of Canada/Quebec, was no doubt the most interesting piece. As the Brazilian dancers appeared to easily grasp the emotional, the high spirited and pressing physical demands of this clash of bodies and lighting effects, The Seasons also incorporated a most exciting remix and reinterpretation of Vivaldi's Four Seasons and thus soared above the other two pieces , Mamihlapinatapai (Jomar Mesquita) and Gnawa (Nacho Duato), which almost seemed "déjà vu" in the aftermath of Lock's tsunami that came crashing down on us with all its strength.
Lock's world of The Seasons retains a clear cinematic sense of that which appears and that which fades into the shadows, as lights highlight portions of the dancer, while the absence of light swallows the bodies altogether. Canadian filmmaker Norman McLaren used such visual chiaroscuro techniques in his short camera experiments with dancers whom he filmed , transforming a single leaping body  into a lineup of repeated movements connected by the highlighted parts of their moving body. The idea was to study and capture each movement in space, projected as a line of consecutive poses as the dancer is plunged into these continually opposing effects . One has the strange impression that Lock was in fact relocating McLaren's movies into space, capturing the dancer's movements at the speed of light whereas McLaren slowed down the process so that every split second was captured by a moving part of the dancer on the screen. From then on, Lock took charge of the relationship between the corporeal exploration and the heightened energy that had the female dancers  linked by shared movements whereas the male dancers appeared to multiply their emotional expression, expose their bodies, highlight their vibrant sensuality as they share moments with their female partner. In this heated encounter between male dancers and female dancers the heat is turned up 100 fold as the males light up the stage and a certain sensuality overtakes the entwining of  bodies that encounter each other
Far from the slow sensual expression of McLarens dancers' drowned in chiaroscuro effects, Lock's dancers have become frantic signs, thrusting arms, feet on points, pointed fingers, legs manipulated around and around like parts of a mechanical pump that must be warmed up before it works. Yet it all comes together in a most uncanny way, as though, Sudden appearances and disappearances create theatrical tension,  suggest a story of that which one has lost. One is curious as to what will happens next.
Manihlapinatapai conceived by Brazilian choreographer Jomar Mesquita seemed almost too sentimental after the whirlwind performance of the Seasons. It was a moment of relaxation where couples floated around the stage to romantic love songs but it quickly lost its attraction, no doubt because of the context of the other work which was a lot more demanding. Chosen no doubt to give us a glimpse of the work of a current Brazilian choreographer whom we would probably never see in Ottawa.
Nacho Duato who has already been to the NAC comes this time with a very interesting ritualized form of performance (Gnawa) created in 2005 at the Hubbard Street Dance in Chicago. Celebrating life in all its forms, this suggested North African even Berber sounding music. Mediterranean formations of male and female dancers moving in circles, connecting and disconnecting as happens in Greek, or Turkish or Moroccan or traditional dances from the south of Spain, unite with more contemporary visions of dance as we noticed bits of Martha Graham's adaptation of traditional Mediterranean swooping robes and dress which she made part of her signature costumes. Also important are the corporeal formations , the use of arms and legs that remind us of Bejart's contemporary predatory male dancers. This was a bit of everything and everyone, a beautifully organized collective ceremony that began with candles and ended with the retreat of the candles as though some special contact with the invisible had taken place and order was re-established for all.
A fine evening that gave the dancers of the Sao Paulo Companhia de Dança a chance to show us the excellence of their work. It was a beautiful discovery. Will they be back? Let's hope so.