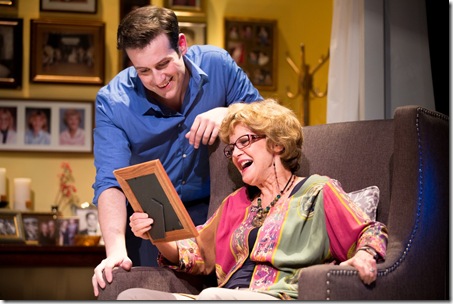 Photo: Justin Saglio
Playwright Joshua Harmon first came to notice with his highly successful biting comedy Bad Jews, in which family members fight tooth and nail. His new piece, the simpler Significant Other, presented by Boston's SpeakEasy Company, focuses on the egocentric, yet generous; impulsive, but wary and obsessive Jordan Berman played by the talented Greg Maraio. Jordan, a gay New Yorker, socializes with his best friends, Kiki (Sarah Elizabeth Bedard), Vanessa (Kris Sidberry), and Laura (Jordan Clark) all professional women of different ethnicities, approximately his age. They go out for dinner, drink, confide in each other, joke, and talk and talk. The women offer him advice. Although they are all in their late twenties, their lives have an adolescent quality.
At the opening as Jordan dances on with the women in a routine reminiscent of an old musical comedy film that sets the playful mood of the friendship. The dance, repeated several times during the show, reflects Jordan's fantasy life in which he is the main figure, indispensable to each woman. However, his life begins to feel empty as one by one they acquire boyfriends and begin to think of marriage and children. In one of his despairing moments, he laments that he is twenty-nine years old and has never been told he was loved.
While Jordan is saddened and angered by his women friends leaving him, he has long dreamed of a love affair with a hunky guy that would be fulfilled by having children. He becomes infatuated with Will (Jared Troilo), a handsome co-worker at the ad agency whose intellectual interests are far from Jordan's. In an attempt to appeal to Will, Jordan suggests they see a documentary on the Franco-Prussian war and have a drink together afterwards. The relationship ends with the drink leaving Jordan to fantasize almost continually about Will. Against the women's counsel and after a long time ruminating in front of his computer, Jordan sends his crush a wordy email explaining himself and his feelings. Afterwards, he feels embarrassed and gauche. Jordan's self-pity and self-absorption are reminiscent of early Woody Allen characters.
Jordan seeks solace several times during the play by visiting his aged and somewhat demented grandmother (delightfully acted by Kathy St. George) who always greets him by asking, "How is your social life?" The implication of the question is not clear. Does she know he is gay and does not want to question him further? It is obvious that she wants him to be happy, to love someone and be loved in return, and have children. Towards the end of the play, she tells him that life is a book with many chapters. Unlike the three girlfriends, her character is given depth by the playwright.
Each of the girlfriends goes through a ritual of bridal showers, bachelorette parties, engagement dinners, and weddings, which the audience hears about, but does not see. The first to marry is Kiki, Jordan's caustic self-centered colleague at the advertising agency. Next to go is the depressive Vanessa who meets her husband-to-be at Kiki's wedding. Most painful to Jordan is the loss of Laura, the kindest of the women, his closest friend, and former roommate and dance partner. He turns on her furiously because he has no place in the wedding party, while Kiki and Vanessa are bridesmaids. In an agony of pain, he blurts out that her wedding is his funeral. Greg Maraio is wonderful in this scene where Jordan becomes forthright, then sad, rather than self-
pitying when he accepts the situation and, as the wedding celebration takes place offstage, dances alone.
Christopher and Justin Swader's all-purpose modernist set is sleek and attractive. Daniel H. Jentzen's beautiful lighting sets the mood for the scenes. Tyler Kinney's costumes are appropriately attractive, suitable, and funny. SpeakEasy's production of Significant Other is a well put together and lively show, particularly in the second act.
Significant Other continues at Roberts Studio Theatre, Calderwood Pavilion, Boston Center for the Arts through October 8.
Playwright: Joshua Harmon
Director: Paul Daigneault
Set Designers: Christopher and Justin Swader
Lighting Designer: Daniel H. Jentzen
Costume Designer: Tyler Kinney
Cast
Kiki …………………………… Sarah Elizabeth Bedard
Laura ………………………… Jordan Clark
Jordan Berman ………………. Greg Maraio
Gideon/Evan/Roger ………….. Eddie shields
Vanessa ………………………. Kris Sidberry
Helene Berman ………………. Kathy St. George
Will/Conrad/Tony ……………. Jared Troilo