Shaw Festival with the Friends of English Theatre…
Reviewed by Jamie Portman
12
Aug
Posted:
August 12, 2014 Tuesday at 6:33 pm
Enjoy a THEATRE GETAWAY with
FRIENDS OF ENGLISH THEATRE
SHAW FESTIVAL
July 4 – 6, 2014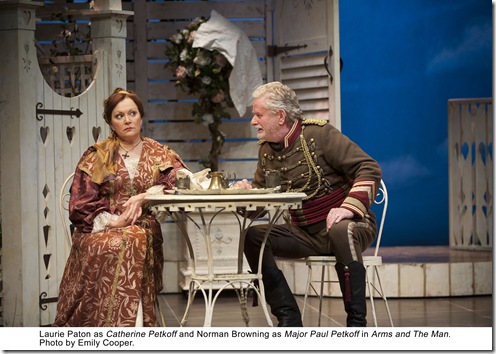 Arms and the Man. Photo by Emily Cooper. 
For reviews of the plays see http://capitalcriticscircle.com/reports-from-the-shaw-festival-the-2013-season-opens-with-a-winning-production-of-arms-and-the-man/#more-5107  (Jamie Portman reviews Arms and the Man)
http://capitalcriticscircle.com/the-charity-that-began-at-home-a-forgotten-edwardian-comedy-that-is-a-sheer-delight/#more-5115  (Jamie Portman reviews The Charity That Began at Home) 
http://capitalcriticscircle.com/cabaret-at-the-shaw-festival-director-peter-hinton-goes-the-phantasmagoric-route-for-world-that-emerges-from-the-dying-embers-of-the-weimar-republic/#more-5131  (Jamie Portman reviews Cabaret)
FET theatre trips have earned a well-deserved reputation for quality, worry-free organization and excellent value. A unique and much-admired feature is the freedom given to participants to make their own choice of which shows to see. Read on to see how FET puts it all together.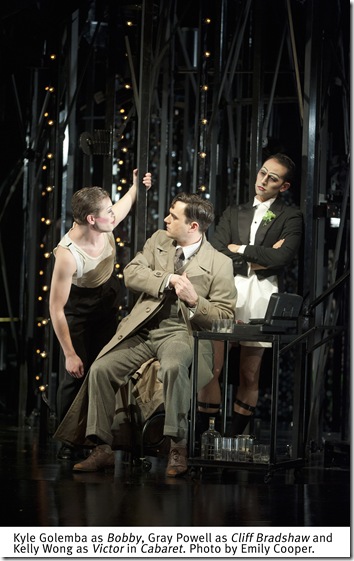 Photo by David Cooper. Cabaret
WHAT'S ON Friday THE SEA by Edward Bond (Court House Theatre)
8:00pm ARMS AND THE MAN by Bernard Shaw (Royal George Theatre)
Saturday THE PHILADELPHIA STORY by Philip Barry (Festival Theatre)
2:00pm JUNO AND THE PAYCOCK by Sean O'Casey (Royal George Theatre)
Saturday CABARET by Book by Joe Masteroff, Based on the play by John Van Bruten and stories by Christopher 8:00pm Isherwood. Music by John Kander, Lyrics by Fred Ebb (Festival Theatre)
THE CHARITY THAT BEGAN AT HOME by St. John Hankin (Court House Theatre) WHEN WE ARE MARRIED by J.B. Priestley (Royal George Theatre)
Sunday THE PHILADELPHIA STORY by Philip Barry (Festival Theatre)
2:00pm THE SEA by Edward Bond (Court House Theatre)
JUNO AND THE PAYCOCK by Sean O'Casey (Royal George Theatre)
CHOOSING YOUR PLAYS
Please choose two evening performances and two matinee performances. When you choose four shows you make it possible for our group to qualify for the group discount for all shows. However, if you consider four performances beyond your limit, please discuss this with Fran Pearl, our trip co-ordinator, as occasionally exceptions can be arranged. (Contact details on page 4).
We also ask you to choose where you would like to sit. Prices vary a great deal depending on the location of your seat. In the Royal George and Court House Theatres, Gold tickets are best, Blue tickets are next best. In the Festival Theatre, colour coding is different. Platinum tickets are best, then Red tickets, then Blue tickets. We do not recommend seating in the other sections but if this is your preference we can try to make that possible. Consult pages 27 in the Shaw Festival Guide for the location of each section. Remember that Festival members have had priority booking since last November so the best seats in all sections may have already been sold.
PRICES
FET prices take advantage of the group discount (when applicable) with a small margin added to cover costs and to add modest funds to our support of NAC's English Theatre. FET prices include HST (13%) and are lower than the regular ticket prices. (Note that prices shown in Shaw Festival publicity do not include booking fees or HST.)
If you would like to have a friend from out of town accompany you as your travelling partner, he/she is most welcome to join you so you can sit together as well as take advantage of discounted tickets. However, if he/she does not ride the bus, $25 will be added to the cost of registration in order to cover costs.
Platinum

Red

Gold

Blue

Friday

Sea (P*)

8:00

Court House

$82

$73

Arms &the Man

8:00

Royal George

$108

$92

Saturday

Philadelphia

2:00

Festival

$127

$108

$92

Juno (P*)

2:00

Royal George

$82

$73

Cabaret

8:00

Festival

$137

$118

$99

Charity

8:00

Court House

$108

$92

Married

8:00

Royal George

$108

$92

Sunday

Philadelphia

2:00

Festival

$127

$108

$92

Sea (P*)

2:00

Court House

$82

$73

Juno (P*)

2:00

Royal George

$82

$73
* Preview
ADD-ON ACTIVITIES
Saturday 11:00 – 12:00

BACKSTAGE TOUR

Festival Theatre

$5

Saturday 11:30 -12:30

LUNCHTIME PERFORMANCE

A Lovely Sunday For Creve Coeur

Court House Theatre

$42

Saturday 7:30 to 7:45

PRE-SHOW TALK for Cabaret

Festival Theatre

Free

Sunday 11:00-12:00

BACKSTAGE TOUR

Festival Theatre

$5

Sunday 10:30 to 11:30

MEET A SHAW PERSONALITY. If enough people are interested, an event will be offered. Please indicate your interest on the registration form.

TBD

TBD

Sunday 11:00 to 11:45

COFFEE CONCERT performed by the members of the Shaw Festival's Orchestra.

Festival Theatre

By donation at the door
ACCOMMODATION
In addition to choosing your line-up of shows, we invite you to choose the place and style of your accommodation.
FET does not book your accommodation although we are happy to assist. You may choose to stay in accommodation of your own choosing or take advantage of one of the hotel rooms which FET has reserved in advance for the group. No matter where you choose to stay you will be paying the owner/innkeeper directly.  As a guideline, the cost for a room in NOTL can vary from less than $100 to over $400, but the average price is about $160 per night. We strongly suggest you choose a place that allows you to walk to the theatres.
Please book your accommodation through Helen Johnstone at the Chamber of Commerce in Niagara-on-the-Lake. This is most important as Helen must make all the special arrangements for you and your luggage to be transferred to your B&B/hotel when we arrive in NOTL. Her contact number is on the last page. Detailed information about the reserved hotel rooms is also on the last page. The hotels are holding these rooms for our group only until May 20.
TRANSPORTATION
TO AND FROM NIAGARA-ON-THE-LAKE
A comfortable 26-passenger coach will take you to Niagara-on-the-Lake. The journey to NOTL takes a bit over six hours including 2 stops. Seating on the coaches will be allocated in order of registration. Toilet facilities are provided on board.
Friday, July 4 Coach will depart Ottawa in the early morning. Information about the location of the pick-up points and the possibility of overnight parking will be made available at a later date.
We arrive in NOTL at approx. 3:30pm. The coach will take you to the bus parking area. From there you and your luggage will be picked up and taken to your accommodation.
Sunday, July 6 Coach will depart NOTL after the matinee performances (approximately 5:00p.m). Special arrangements will be made to have your luggage on board prior to departure. We will arrive in Ottawa at approximately 11:30p.m.
Cost of transportation: $185 per person
WITHIN NIAGARA-ON-THE-LAKE
It is expected that most participants will be walking to the theatres. However, the FET coach will operate on a very limited schedule to enable participants to ride to and from the theatres. At other times, if a ride is needed, a taxi from St. Catharines can be booked in advance. Even though the taxi comes from St. Catharines, passengers will only have to pay for the distance between pick-up and drop-off.
SPECIAL NEEDS
Assisted hearing devices: The devices must be ordered at the same time as the tickets. Cost is $2 per unit per performance. Please indicate on the registration form if you would like to take advantage of this service.
Wheelchairs: It is possible to rent a wheelchair from the NOTL Chamber of Commerce. It must be ordered in advance. Special access seating is available at the Festival, Royal George and Studio Theatres, but not at the Court House Theatre. Wheelchair accessible washrooms are also located in two theatres, (i.e. not in the Court House Theatre.)
MEMBERSHIP
This excursion is exclusive to members of Friends of English Theatre. If you or any member of your party is not already a member of FET ($10 annual fee), please contact our membership secretary, Manjit Chhura. (Contact details are on last page)
REGISTRATION AND PAYMENT
The price paid at the time of registration covers tickets, transportation and optional activities. Accommodation and meals are not included. Two cheques are required with your registration:
1. A non-refundable deposit of $200 per person. This cheque is due upon registration.
2. A post-dated cheque dated no later than May 23rd covering the balance of transportation and tickets.
Please see registration form for details of where to send cheques. Receipt of your registration will be acknowledged. Letters containing final details will be mailed out a month prior to departure.
Registrations made after May 23rd must be paid in full with a single cheque which is entirely non-refundable. A late fee ($15) will be charged.
It is a good idea to make a copy of your completed registration.
CANCELLATIONS
The deposit is not refundable unless FET cancels due to insufficient registration. If a cancellation is unavoidable and FET is notified prior to May 23rd, the post-dated cheque will be returned. On or after May 23rd, we will do our utmost to find a replacement for you, but this cannot be guaranteed. If we are successful in finding a replacement, we will refund 95% of the amount of the post-dated cheque.
A helpful hint: Even if you're not sure as you read this that you will participate in this FET trip, book your accommodation right away. You can always cancel your accommodation later if things don't work out. Sending in the registration for this excursion is not as urgent as booking your accommodation, but don't postpone your registration for too long.
WAIVER /TRAVEL INSURANCE
You will be asked to sign a waiver before departure.
Travel insurance is your own responsibility. However, please note that if you already have travel insurance, we strongly suggest that you check very carefully that your policy covers this particular trip. Some insurance companies do not cover travel within Ontario, nor the cost of theatre tickets.
Hotel Accommodation in Niagara-on-the-Lake
Best Western Colonel Butler Inn

12 rooms reserved for FET

Location: 272 Mary St. This hotel is located about 1½ km from downtown.

The 12 rooms in our block are traditional double rooms.  Each air conditioned guestroom features two double beds with down duvets, a 37-inch flat screen television with cable, coffee and tea maker, and a bathtub with shower.  Every stay includes enhanced continental breakfast, in-room wireless internet access, use of our fitness room and use of our public computer with internet access.  Breakfast consists of home-made waffles, fresh fruit, pastries and breads/toast, yoghurt, hard boiled eggs, a variety of cereals, juice, coffee and tea. 

http://www.colonelbutlerinn.com/niagara-on-the-lake/default.asp

Group rate $199 + tax (Regular rate $240+tax).

The Shaw Club Hotel and Spa

6 rooms reserved for FET

Location: 92 Picton Street. This hotel is directly across from the Shaw Festival Theatre. Evening shuttle service is included.

The Shaw Club is a 4-diamond boutique hotel with a 4-diamond full service restaurant, Zees Grill, and is home to the Shaw Spa. The 6 rooms held for the FET group are classic king rooms. A limited number of twin feather beds may be available, (Please inquire at time of booking). I-pod stations, plasma TV and surround sound await your pleasure. Continental Breakfast includes house-made pastries, granola, yoghurt, artisanal cheese, gourmet coffee and tea.

http:// www.niagarasfinest.com/properties/shawclub/

Cost: $295 + tax

Friends of English Theatre is an independent membership driven group
that supports the English Theatre at the National Arts Centre