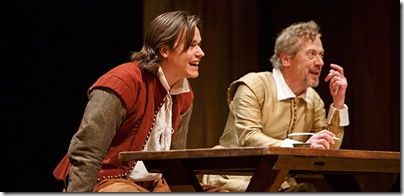 Photo: David Hou.  Luke Humphrey (left) as Will Shakespeare and Stephen Ouimette as Henslowe
The first point to be made about the stage version of Shakespeare In Love is that will give a great deal of legitimate satisfaction to a great many theatregoers.
The second point is that any claim to its being a true Stratford Festival "production" seems dubious.
It may be a sound money-making move to include this shamelessly commercial stage adaption of the Oscar-winning movie in a festival season. It also may seem a little crass and opportunistic — especially given that this is a 400th anniversary year that should surely be taken seriously by an organization of Stratford's international prestige.
At the same time, it would be unfair to dismiss Lee Hall's stage adaptation of the original screenplay by Tom Stoppard and Marc Norman as some kind of hack job. Hall is a respected British dramatist, a former writer-in-residence for the Royal Shakespeare Company, with a solid output that includes the 2008 stage success, The Pitmen Painters, and the award-winning book for Billy Elliott: The Musical.
Still, the fact remains that this adaptation was originally conceived for London's West End, which has an insatiable appetite these days for regurgitated stage versions of material from other mediums.
There was no artistic necessity for turning Shakespeare In Love into a live-theatre attraction. But there was the promise of making more money from this property — and the Disney organization is at the front of the line when when it comes to lucrative reworkings of its archival holdings.
However, the Mouse House also believes in quality product. When it embarked on the perilous course of mounting a stage version of one of its greatest animated achievements, The Lion King, it hired the remarkable Julie Taymor to direct it. Its recent live-action remake of The Jungle Book is also too good to be dismissed as a rip-off of the animated original.
So what of Shakespeare In Love? Disney's ownership of Miramax, the studio that produced the original movie, gave it ultimate control over the property and over Lee Hall's adaptation.
Because Disney is obsessive about safeguarding its investments, its shadow hovers over the production of Shakespeare In Love currently housed by the Stratford Festival. Is it unfair to label Stratford's North American premiere of this play a mere clone of the show that opened a 10 month run at London's Noel Coward theatre in 2014? Possibly, given the quality work that festival actors bring to it. But do these excellent cast-members ultimately seem like hired help on this occasion? The trade-off for the play's presence on Stratford's 2016 playbill involved the importation of its original London production team — director Declan Donnellan, designer Nick
Ormerod, composer Paddy Cunneen and choreographer Jane Gibson.
These people have solid credentials. Donnellan's lively direction keeps the production happily airborne, deftly managing both the comedy and the romantic fluff, harnessing the rich ensemble potential of the festival's renowned acting company, and conveying a real sense of the chaotic world of theatre in Shakespeare's London. Furthermore, the Avon stage has never looked more splendid, thanks Nick Ormerod's high, wide and handsome galleried set.
In other words, the play is well-served in this production — even though it may leave you wondering to what degree Stratford's actors are simply the equivalent of symphony musicians responding to the demands of a guest conductor who shows up knowing exactly what he wants from them.
Be that is it may, Luke Humphrey is immensely likeable as the young Will Shakespeare — clearly a romantic but also increasingly frazzled because of the competing demands of producers and because of his frustration in completing the play that will turn out to be Romeo And Juliet. And. of course. that play is a tragedy of young love, seething with emotions that find some parallel here in the young Will's less-tragic offstage affair with Shannon Taylor's feisty but alluring Viola de Lesseps. Shakespeare In Love is essentially a warm-hearted piece, less tough-minded than the Bard himself tended to be, and at Stratford its funny-sad sensibility is beautifully captured.
Tom McCamus has a field day as Fennyman, the aggressive money man with a jovial propensity for violence when his investments are jeopardized; this dependable actor also brings off a neat comic turn when his character unexpectedly ends up playing the apothecary in Romeo And Juliet. Stephen Ouimette, nervous and harassed, is wonderful as a beleaguered impresario, Sarah Orenstein is an appropriately regal Queen Elizabeth, and Karen Robinson is noisy and rambunctious as Viola's good-hearted nurse. Then there's rival playwright Christopher Marlowe — a character successfully expanded from the film version: Saamer Usmani's stylish performance is a triumph of sleek and sardonic wit.
So yes, as the product of a slickly oiled machine, Stratford's Shakespeare In Love undoubtedly works. But let's hope it doesn't outsell the 2016 playbill's Shakespearean repertoire. That would be an embarrassment.
(Shakespeare In Love continues until Oct. 16. Ticket information at 1 800 567 1600)