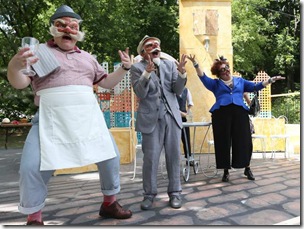 Photo: Barb Gray.Servant of Two Masters by Carlo Goldoni. Directed by Andy Massingham.  An Odyssey Theatre production 
Almost as a rule, plays start slowly and develop into something interesting as the story unfolds. Fortunately, director Andy Massingham forgot all about this, and instead made "The Servants of Two Masters" intriguing, engaging, and funny from the first second. The play starts with the characters presenting themselves. One by one, they come dancing on the stage, promising an evening under the stars (and sporadic rain) full of fun and delight. Odyssey Theatre premiered its "Theatre Under Stars" production with the adaptation of Carlo Goldoni's best known comic play, giving it a more contemporary twist (the play is set in late fifties), and so proving the old art form of commedia dell'arte to be timeless.
Of course, in commedia dell'arte, the narrative itself is not the center of attention. The outline of the story and characters is always a simple tale about love, error, and deception. In this case, a young couple, Clarice (based on Isabella) and Silvio (based on Flavio), celebrate their engagement, when Truffaldino (based on Arlecchino) enters and announces that he has come with his master Federigo, Clarice's former fiancé who was presumably dead. While Clarice tries to whimper her way out of her predicament, hot headed Silvio to fight it, master Federigo (in reality Beatrice disguised as her brother) attempts to get his hands on Pantalone's (Clarica's father's) money. Florindo Aretusi (in love with Beatrice) comes looking for his love. Sly and capable Truffaldino (who has no idea that his master is a woman) seizes the opportunity to double his income. Now as a servant of two masters (Beatrice and Florindo) he juggles his duties masterfully, except for a few unfortunate errors, which lead to unexpected and hilarious developments.
So, as the story is not complex, the success lies completely on artist's shoulders. There is also another possible trap: this is a physical comedy that relies on choreography, masks, and clowning. It is so easy to over-clown and over-act, cheapening the production. On the other hand, one can take this task and make it into an art form. That is exactly what Andy Massingham has done. From the very first moment, the masked actors dance and clown their way onto the stage telling us not only who their characters are, but also representing them vividly. Every move, every facial expression is masterfully incorporated in their portrayal, adding a special feel of the time and people.
The comedy flows seamlessly, in a perfect pace, fluid and rhythmical from beginning to the end.
Superb directing allows it to be comical, but keeps it firmly framed, making it logical, focused and natural. Characters are wonderfully defined and, despite their shortcomings, very lovable.
The acting, which is a huge part of this kind of play, is superb. Zach Counsil's exceptional clowning skills make his character a naturally shrewd, diplomatic, mind-my-own-benefits type of man. Dana Fradkin's Smeraldina is very human – a coquette to the bone, smart and fierce, with a big heart ready to love. Connecting them all, Jesse Back is brilliant as Truffaldino. He made his character real, comedic, and natural. His clumsy, spineless, dishonest Truffaldino is wonderfully charming and attractive. Jerrard Smith's masterfully designed Masks and Vanessa Imeson's costumes add immensely to the atmosphere and portrayal of characters.
The Servant of Two Masters is so well done that it can be only the result of work by an excellent team. It is a memorable, artistic performance, full of fun. It is surely this summer's hit! Not to be missed.
The Servant of Two Masters in Strathcona Park, July 21-Aug. 21
Production Odyssey Theatre
Written by Carlo Goldoni's
Directed by Andy Massingham
Cast:
Truffaldino Jesse Buck
Beatrice Sarah Finn
Florindo Joshua Wiles
Pantalone Sean Sullivan
Smeraldina Dana Fradkin
Clarice Maryse Fernandes
Silvio Adam Sanders
Dr. Lombardi Lynne Griffin
Brighella Zach Counsil