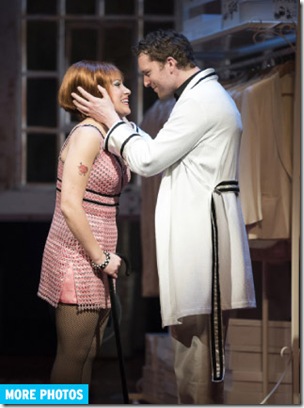 Photo: David Cooper
NIAGARA-ON-THE-LAKE, Ont. — Sweet Charity poses a challenge to any performer hazarding the title role.
Here's the problem. This 1966 musical was conceived as a showcase vehicle for the legendary Gwen Verdon, a one-of-a-kind Broadway talent. Her director husband, another legend named Bob Fosse, saw her as ideal casting for the role of a forlorn New York dance hall girl who keeps being disappointed in love.
I saw Verdon as Charity, and her high-kicking performance was definitely one for the memory books. She had a dynamite presence — even though, in portraying a character who is more used than loved, she seemed to be fulfilling the inner needs of a director whose depiction of women on stage or screen often seemed problematic.
The show ultimately belonged to Verdon — not to playwright Neil Simon, whose amusing, observant book seemed tailor-made for its star, not to composer Cy Coleman who provided some of the best music of his Broadway career for Sweet Charity, not to veteran lyricist Dorothy Fields who, at the age of 61, had provided a succession of witty, verbally brilliant complements to Coleman's score.
Shirley MacLaine was no Verdon when she did the film version, although she tried hard. Julie Martell, who plays Charity in the Shaw Festival's sprightly new revival, is no Verdon either — and indeed, it seems obvious that choreographer Parker Esse was taking extra care in fashioning her contributions to the show's dance numbers. However, it would also be unkind to harp on this aspect of Martell's performance, which should not rise or fall on her ability to dance as well as Verdon. Instead let's cite the 1958 London production of Where's Charley, a Frank Loesser musical that was originally conceived to celebrate the hoofing talents of the great Ray Bolger. However in London, the role was assigned to beloved movie comic Norman Wisdom — who — notwithstanding the fact that he couldn't dance his way out of a paper bag — made the role endearingly his own.
By the time Martell sails into her showcase rendition of If My Friends Could See Me Now, that jaunty expression of misplaced optimism, she is in confident possession of her material. And when she then joins fellow dance-hall girls Kimberley Rampersad and Melanie Phillipson, both of them excellent, in There's Gotta Be Something Better Than This, a rhythmically arresting declaration of economic defiance in the face of low wages and a humiliating job, we're on to something else about Martell's performance. She's capable of adapting easily to a show's ensemble needs, which isn't always the case with a star performance. Equally significant is her determination to turn Charity into a real human being.
So, notwithstanding the shadow of Gwen Verdon over anyone who takes on this role, Martell offers a great combination of sass, brass, vulnerability and perky resilience. She's also, by implication, making a social statement — although it's certainly not as pronounced as that advanced by Frederico Fellini in Nights Of Caribia, his film about a sad prostitute in 50s Rome, and the inspiration for the sanitized Broadway reworking that became Sweet Charity.
In fact, it could be argued that Verdon's high-octane celebrity turn posed a problem in credibility a half century ago. It wasn't just that created an imbalance in the over-all chemistry of the show. She was also too good to be true, given the seedy nature of the Manhattan dance hall in which her character was trapped. In his choreography for the Shaw Festival revival, Parker Esse is under no pressure to showcase a "star" presence like Verdon. There are pungent strains of satirical comment in the dance routines fashioned by him for the jaded women employed by the Fan-Dango ballroom. They entertain us, but they also communicate the aura of the second-rate — and watching them you begin to realize that this production is offering a portrait of a particular culture as it existed in a particular time — if you like, a tarnished fairy tale.
Director Morris Panych's approach to the material seems in some ways closer to the sensibility of the Fellini film than Bob Fosse was in creating a showcase for his gifted, high-stepping wife. Panych, working with Parker Esse and musical director Paul Sportelli, has certainly engineered some show-stopping musical numbers, but there is a recurring tinge of ruefulness to this production. It's there, in the opening scene, in which Charity's current loser boyfriend interrupts her romantic prattle by dumping her in the river and running off with the money she's naively saved up for their future happiness. And it's there again at the end when — having finally had the good luck to hook up with a seemingly decent and loving guy named Oscar Lindquist — we see her taking affectionate leave of her dance-hall cronies, even as we're having this awful feeling that there will be no happily-ever-after future for Charity Valentine.
Sweet Charity comes from an era in which subsidiary characters in Broadway musicals were often simple sketches, often no more than stock clichés. There is some substance to the character of the nervous, claustrophobic Oscar, and Kyle Blair's engaging performance is a triumphant display of comic neurosis. But Neil Simon's script is tissue-thin when it comes to some other roles. Mark Uhre can't do much more than go through the conventional lounge-lizard motions as the Italian movie star who invites Charity up to his suite, but Jay Turvey, for all his predictable bluster as Charity's dance-hall boss, does earn marks for his roaring rendition of I Love To Cry At Weddings. And the talented Jeremy Carver-James is a swivel-hipped delight in The Rhythm Of Life Number despite being saddled with the tiresome role of a groovy cleric named Daddy Brubeck.
The look of the show — a collective triumph on the part of set designer Ken MacDonald, lighting designer Bonnie Beecher and projections wizard Cameron Davis — offers its own delights. For example, the moment when we see Charity and Oscar trapped atop a Ferris wheel is a dazzling achievement of the visual imagination. But there is also an ongoing visual tension between the real and illusory — those monochromatic projections of an idealized Manhattan skyline are beautiful to behold, but they can't erase the grubby truth of Charity's situation.
All this underlines an important observation that Panych makes about Charity in his notes in the printed program. "She has a simple, if impossible ambition; to find romantic love in a cold and unyielding metropolis."
Don't assume, however, that this is a cold and unyielding revival. At its best, it soars.
 
Sweet Charity continues at the Shaw Festival to Oct. 31. Ticket information at 1 800 511 SHAW or shawfest.com)