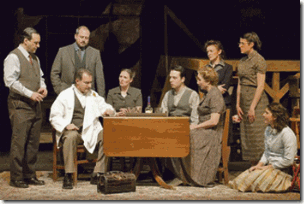 Photo: David Hou
Let's give the Stratford Festival the benefit of the doubt and concede that it was motivated by the purest of intentions when it decided to remount The Diary Of Anne Frank this summer. Unfortunately, the treatment that lurched onto the stage of the Avon Theatre Thursday night is wrong-headed and misconceived. It renders a profound disservice to a powerful and affecting story.For this, director Jillian Keiley must be held accountable. It's on her watch that the evening begins with smiling cast members lined up on stage. They're there to introduce themselves and the characters they play, to crack a few jokes and offer some more solemn observations on the material they will be performing. It's all a bit lovey-dovey. It's also misguided because its chief effect is to remind us that what we'll be seeing is essentially make-believe theatre — as though we must to be cocooned in advance from the terrible realities inherent in The Diary Of Anne Frank.
So before the play even begins, the "fourth wall" which normally exists between actors and audience is systematically being broken down. Why?   But wait — Keiley is still not ready to allow us into the world of playwright Wendy Kesselman's text. It's now time for cast members, led by actor Joseph Ziegler, who will be playing Otto Frank, to invite us to inspect the "home" that designer Bretta Gerecke has concocted for these eight Amsterdam Jews forced into hiding from the Nazis. And again, it all feels wrong.
We think we'll get to know these people quite well as the evening progresses — but that won't come easily in this production. Still, for the record, there are the four members of the Frank family — father Otto and his wife, daughters Margot and Anne. There are three members of the dysfunctional van Daan family. And there is a later arrival in the person of a disgruntled dentist named Mr. Dussel who also fears for his life.
In an earlier festival production of this play, beautifully directed by the late Al Waxman, designer Guido Tondino created a cramped, multi-level set that provided a claustrophobic context for the stress,  both physical and emotional, suffered by these people during their two-year confinement on the cramped upper floors of an Amsterdam office annex. But there's nothing the least claustrophobic about the yawning expanses of slatted carpentry that, in this 2015 production, purport to define the boundaries of the Frank family's fabled hiding place. There is, however, the annoying display of the people on stage — and who knows at this early point in the proceedings whether they're still the actors or the characters they are playing —showing off this woodwork, as though it's the latest concoction from Lego or Ikea.
Why a set so inappropriate? Think about it, and you have the uncomfortable answer. It's there not to satisfy the needs of the play, but rather to satisfy the visions of a director and designer who are entranced by the idea of a clever closing effect where those slats become the sides of a train of horror transporting its screaming victims to the death camps. Still, there comes a time in the course of this weird production when the text of the play must take control. But it can't be said that we witness much of the distress and tension envisaged by Wendy Kesselman in her detailed stage directions for the opening scene in which the two families settle into their new surroundings. It seems almost too jolly and matter-of-fact and indeed triggers a good laugh when Lucy Peacock's Mrs. Frank shows a fear of rats. But, of course, this Stratford production seems ready to disregard aspects of the script whenever it sees fit.
Apparently, tickets to The Diary Of Anne Frank are selling like hotcakes this summer. The play, inspired by the brave and insightful journals Anne that kept over a two-year period, and ended with the moment when Nazi thugs discovered the Franks' hiding place in 1944, has always been a sound commercial property. Yet its very success can have troublesome implications for anyone who ponders the uneasy relationship between the Holocaust and popular culture. Should such an
event really be considered an acceptable vehicle for profit-making ventures? It's a thorny dilemma — especially when it comes to a play whose sensibility has often seemed closer to Broadway and 42nd than to a war-ravaged street in Amsterdam. Yet when done with reverence, honesty and a clear-eyed lack of sentimentality, it can have a profound
impact.
n the balance, it does well. This is especially true of the 1997 version adapted by Wendy Kesselman from the original Broadway script by Frances Goodrich and Albert Hackett, a pair of veteran wordsmiths best known for their screenplays for The Thin Man and Father Of The Bride. Unlike her predecessors, Kesselman had access to Anne's complete diaries, and was therefore able to offer a more complete portrait — a tougher-minded one that delved into Anne's own family tensions and even explored her emotions in connection with her first menstrual period.
Which brings us to Sara Farb's performance as Anne. This is a mature and seasoned Stratford actress who last year played Cordelia in King Lear and in 2013 the problematic character of Shylock's daughter in The Merchant Of Venice. Can she bring off Anne Frank? Yes, she can, despite the peculiar limitations imposed on her by this production. She dissolves with ease into the character of this precocious, impetuous and often bratty teenager. Our early Anne is not easily lovable — that comes later as her arc into greater maturity and understanding continues — but she is abundantly alive. However, we should be allowed to know Anne even better — and we don't have that opportunity. This is because of the way the diaries are used in this production. The script suggests recorded voice-overs of Anne's voice reading the various excerpts that are so essential to the texture of the play. Some productions have Anne herself speaking them on stage at various moments in the evening. Both approaches can work, but director Jillian Keiley, shunning the obvious, entrusts the
reading of the diary excerpts to a succession of cast members, both male and female. It's a pointless exercise that perversely distances the audience from the play's pivotal character. Furthermore the whole thing resorts to gimmickry during intermission and after the final curtain, when this Babel of voices booms out at us from the sound system.
A show-off production like this doesn't seem to have much time for text or character. There's almost a sense here that the cast-members are largely on their own, struggling heroically to bring some substance to their roles. It's a tall order — given the off-stage presence of an a capella chorus — whose musical contributions, courtesy of composer Jonathan Monro, seem intent on capsizing the material into a swamp of mushy sentimentality.
Yet there are glowing moments in this production — for example, a moving Chanukah celebration and the excitement over the arrival of a tiny cake that must be shared by all eight people. And inevitable tensions are not shirked: when Mrs. van Daan's treasured fur coat must be sold, the anguish of Yanna McIntosh, so true and believable in the role of this pampered lady, is palpable. Yet, other important sequences are almost perfunctory and suggest an obliviousness to the
material's dramatic needs; this is particularly true of the moments leading up to the sound of jackboots thundering up the stairs and what transpires afterwards.
There's also the issue of comic release — an undeniable component of this play, but one that should be used with care. However this production can on occasion throw caution to the winds — a case in point being the over-the-top excesses of the scene in which Mrs. van Daan has her tooth pulled.
Given that cast-members lack the anchor of a coherent production, they still manage to give some ballast to an uneasy evening. Shannon Taylor is sensitive and vulnerable as Anne's sister Margot; Lucy Peacock is excellent as Mrs. Frank, a wife and mother frantically resisting the tragic visions that threaten to consume her; Kevin Bundy conveys the weakness and fallibility of Mr. van Daan; Christopher Morris carries the ring of truth as the irritable Mr. Dussel; and Maev Beaty communicates the essential goodness of Miep Giles, the family's kindly link to the outside world. And finally there is Joseph Ziegler, self-effacing and tender in the role of Otto Frank and the actor responsible in a final coda for a display of emotional honesty that reminds us what The Diary Of Anne Frank is really about. It's a wrenching achievement on Ziegler's part — and the most telling glimpse of the show this might have been.
(The Diary Of Anne Frank continues to Oct. 10. Ticket information at 1 800 567 1600 or stratfordfestival.ca)