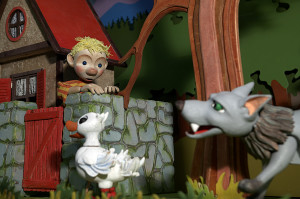 The Puppets Up! International Puppet Festival presents a compelling program this year, where an impressive number of troupes present 69 shows over 3 days. The annual festival in Almonte, Ontario is well-worth the short drive from Ottawa. Artistic Director Noreen Young has curated a festival with a number of impressive local and international puppeteers, featuring a plethora of styles of puppetry. Puppet arts are an important theatre tradition, with strong cultural roots across the globe. It is an important festival to the future of puppet arts in Canada.
Young has put together a festival that allows its audience to venture into traditional styles of puppetry, as well as modern performances. The festival truly has something for everyone, young or old. What's more, the late night "adults only" cabaret ensures that adults are not alienated in a style that is often associated with theatre for young audiences.
Here are just a few highlights from this year's festival.
Peter and the Wolf
Bernd Ogrodnik, Worlds of Puppets. Iceland.
Bernd Ogrodnik's beautiful set of traditional, hand-carved linden wood puppets come alive in a retelling of the Russian composer Sergio Prokofiev's Peter and the Wolf. The classical, lively musical score is the heart of this performance, and it is mirrored by Ogrodnik's bright and animated storytelling. A lively performer, Ogrodnik also has the distinction of being the director and co-founder of the Icelandic Centre for Puppetry Arts. The puppets, though no more than a couple feet tall, are very expressive and charming in their simplicity. The set depicts a small house and the adjacent field where a wolf lurks, hungrily watching Peter and his animals….
It was a true pleasure to watch this story come to life. It is proof that traditional stories still hold great significance to a modern audience.
Buster Canfield and His Amazing Fleas
Pocket Carnival Productions. Toronto, Ontario.
The best flea circus Almonte has ever seen! Buster Canfield, portrayed by Eric Woolfe, is the sardonic ring-leader of a group of highly skilled fleas. This is without a doubt the smallest scale of puppetry that you will see at this year's Puppets Up! festival. The performance is at once stand-up comedy, puppetry, and includes a touch of prestidigitation to drive the illusion home. The production is comprised of a smaller-than-life cast of fleas, and a few rigged set pieces that create a wonderful illusion of some amazing feats of strength, wit, and magic. It will leave you itching for more.
The adults in the audience will especially appreciate the adult humour that runs through the performance. Woolfe's great comedic timing, and cutting humour are the lynchpin that pull this show together.
Intergalactic Creature BAND!
Big Nazo. Rhode Island, USA
These aliens can rock. In a larger-than-life performance, a group of masked musicians bring audiences a visually compelling show featuring extra-terrestrial costumes, live rock music, and many transformations. Overall, the troupe creates an impressive montage of aliens, spanning the very large (they must have been 8-ft tall!) to the adorably stocky. Though some transitions between costumes were a bit laboured, the overall illusion is persuasive.
Nanaboozhoo and the Ducks
Little Spirit Bear Productions. Peterborough, Ontario.
Chad Solomon draws on his Anishinabe heritage to tell the story of Nanaboozhoo, a young giant, and his quest to outwit the animals of the forest to find something to eat. The character of Nanaboozhoo is born from a graphic novel series produced by Solomon alongside graphic artist Christopher Meyer and Tanya Leary. The muppet-like Nanaboozhoo is made of softer materials, and has a beautiful cartoon-like quality. A very interactive performance, Solomon incorporated an extended cast of audience members, who took on various animal characters Nanaboozhoo was trying to hunt in the forest.
Solomon functions as the storyteller and the voice of Nanaboozhoo, and begins the performance with a primer on First Nations traditions, the importance of animals, and a small tribute to the animals before the story begins. The educational mandate is subtly expressed, but oh-so significant. It is a vital show that plays a part in reviving the First Nations stories for the younger generations.