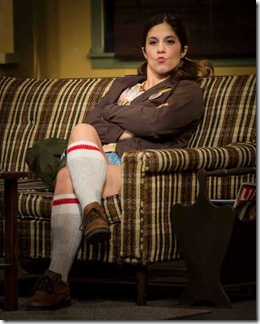 Photo courtesy of Perth Classic Theatre Festival
I Ought to be in Pictures By Neil Simon ; Directed by Laurel Smith
Commitment is not Herb Tucker's strong point. A screen writer with writer's block, he proved this definitively over the years by walking out on his family, going through two more failed marriages and maintaining a casual, holding pattern with his current long-suffering girlfriend, Steffie.
So, when 19-year-old Libby, the daughter he left behind 16 years earlier, shows up on his doorstep, reconciliation and an ongoing relationship between father and daughter seem unlikely.
But I Ought to be in Pictures is by Neil Simon. And he regularly mixes laughter and his signature one-liners with a sprinkling of poignancy. When it premiered on Broadway in 1979 and in the 1982 movie version (with Walter Matthau and Ann-Margret), critical response was mixed, often commenting on the sentimentality of the theme or the stridency of the performer playing Libby.
No such reaction would be justified to the carefully balanced Classic Theatre Festival production directed by Laurel Smith. William Vickers inhabits the role of Herb to make his every emotion and reaction totally credible, even periodically eliciting sympathy when he confesses to insecurity or he admits that he is "not good at marriage."
Meanwhile, Alison Smyth, as his daughter, moves between brash and vulnerable — while maintaining a strong Brooklyn accent — as she and Herb take two steps forward and one step back in caring for each other.
On the periphery of the increasingly close father/daughter relationship is Steffy, the woman who hopes for much but expects little in terms of commitment from Herb. Barb Scheffler concentrates on the practical aspects of Steffy's character, but has a difficult time making much of this underwritten role, which often appears as little more than a dramatic tool in the script.
Well-paced throughout, with terrific chemistry between Vickers and Smyth, and well supported by the technical aspects (despite some over-emphasis in delivering a rundown look to the set) the CTF production of I Ought to be in Pictures is very entertaining.
I Ought to be in Pictures continues to July 17 and is the first of the three plays in the company's expanded 2016 season.
Set: Lois Richardson
Lighting: Wesley McKenzie
Sound: Matthew Behrens
Costumes: Renate Seiler
Cast:
Steffy………………………………..Barb Scheffler
Libby………………………………..Alison Smyth
Herb……………………………….William Vickers