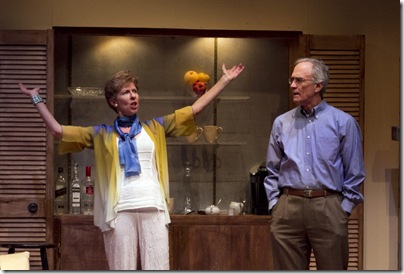 Photo. Maria Vartanova
"Write about what you know."
Following the advice regularly given to authors, the daughter of the wealthy Wyeth family is about to publish unpleasant truths about their past. This is the catalyst for the wrenching conflicts in Jon Robin Baitz' carefully wrought family drama, Other Desert Cities.
While Brooke's tell-all memoir is her view of the past and the tragedy that continues to haunt each of the family members, "divergent truths" and different perspectives throw unexpected lights on their history and the current crisis that threatens to tear them apart.
Parents Polly and Lyman Wyeth are former Hollywood movie industry stars, turned politicos and hard-core Republicans. Daughter Brooke is a successful author at the other end of the political spectrum, still fragile after recovering from severe depression. Her younger brother Trip is a television producer trying hard to keep the peace and avoid a serious look at the world. Polly's sister, Silda, an alcoholic, fresh from rehab, is continuing her recovery by moving into the Wyeth household.
Set in 2004 and first presented off-Broadway in 2011, Baitz's drama, plays against the backdrop of the war in Iraq (and the controversial 'weapons of mass destruction' allegations) overshadowed by references to the war in Vietnam (1955-1975) and the radical views and train wreck of the life lived by the Wyeths' older son, Henry — the unseen character who has had a life-changing effect on each of the others.
Simply put, this play is a terrific piece of writing and Ottawa Little Theatre maximizes the quality of the script with a first-class, cohesive production, featuring universally excellent performances.
As presented by director Geoff Gruson, Other Desert Cities is perfectly paced and conceived from the background music and powerful visuals that open the show to the total contrast of the final coda.
The well-cast ensemble is believable in every interaction, whether vocal or physical. Venetia Lawless as Brooke, in particular, adds character definition to every movement from patting her brother's hand or covering her sleeping aunt with a blanket to her stance when confronting her mother and her complete change of demeanour in the last scene.
Jane Morris is suitably fierce and appropriately false as Polly, while Cheryl Jackson, as her sister Silda, provides equal parts of light relief and pathos.
Meanwhile, you feel for Robert Hicks, as Lyman, a former movie star, turned ambassador, as he exercises his diplomatic skills in trying to hold his wife's and daughter's emotions in check and for Phillip Merriman as Trip, when he points out that he has grown up in the shadow of the brother he barely remembers.
Well supported by an attractive and workable set design from Andrew Hamlin and character-enhancing costuming by Rachel Hauraney, OLT's opening production of 2017 offers a well-oiled ensemble performing at its best in a powerful show.
Other Desert Cities continues at Ottawa Little Theatre to January 22.
Other Desert Cities By Jon Robin Baitz,
Director: Geoff Gruson
Set: Andrew Hamlin
Sound: Bradford MacKinlay
Lighting: John Solman
Costumes: Rachel Hauraney
Cast:
Brooke Wyeth………………………………………………….Venetia Lawless
Polly Wyeth…………………………………………………….Jane Morris
Lyman Wyeth…………………………………………………..Robert Hicks
Trip Wyeth……………………………………………………..Phillip Merriman
Silda Grauman………………………………………………….Cheryl Jackson