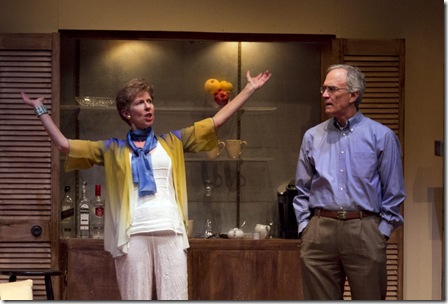 Photo: Maria Vartanova
Other Desert Cities By Jon Robin Baitz, directed by Geoff Gruson.
In case you hadn't noticed, truth is slippery. Everyone has his or her own version of it, as Donald Trump demonstrates almost daily. Playwright Jon Robin Baitz has made that slipperiness – and the crazy-making process of trying to grab hold of it – a principal theme in his compelling 2010 family drama, Other Desert Cities.
Set in Christmas-season California during the mid-2000s, the play finds two generations of the Wyeth family grappling with multiple truths – from matters of personal motivation to what the Republican Party truly represents – after 30-something, left-leaning daughter/author Brooke (Venetia Lawless) writes a memoir about the dark side of her family. The book is awaiting publication, and the potential of public exposure terrifies her parents Polly (Jane Morris) and Lyman (Robert Hicks), who years ago made a killing in the movie business and have gone on to a prominent role in conservative social and political circles.
Brooke's younger brother Trip (Phillip Merriman), who's able to see both sides of the controversy, gets caught up in the family fracas, as does Silda (Cheryl Jackson), Polly's brash sister who's a recovering alcoholic and has her own collection of axes to grind.
Over all this hangs the ghost of Brooke and Trip's older brother Henry, who vanished after being involved with a radical underground group and a terrible event involving the group. Also hanging over the family, and the America that it represents, is the mess that was the U.S. invasion of Iraq.
It's a terrific piece of writing on Baitz's part. It's littered with twists and turns, well-developed characters, enough comedy to further heighten the drama, and a deep inquisitiveness about what makes us do what we do and about how perspective colours our perception of what's real and what's not.
Under director Geoff Gruson, the well-chosen cast bring credibility to the ugly conflicts that splinter their characters even as a strong sense of family and abiding love for each other unite them.
Where the truth actually exists – or if it even does – remains, of course, an unknown.
Other Desert Cities continues until Jan. 28
Set: Andrew Hamlin
Lighting: John Solman
Sound: Bradford MacKinlay
Costumes: Rachel Hauraney
Cast
Brooke Wyeth: Venetia Lawless
Polly Wyeth: Jane Morris
Lyman Wyeth: Robert Hicks
Trip Wyeth: Phillip Merriman
Silda Grauman: Cheryl Jackson