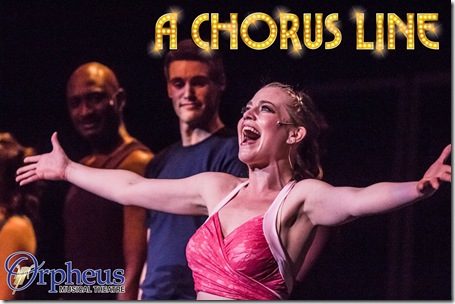 Photo. Alexander Vlad for Alan Dean
In a theatre community where claims to professionalism are sometimes  suspect, Orpheus stands out like shining beacon. It wears its  community-theatre label proudly and without pretension. And it often  puts to shame some of the tacky touring productions that have lumbered   across Canada (and into the NAC) in recent years.
All of which is a preamble to declaring that this organization's new  production of A Chorus Line is another worthy achievement. It remains  true to the sensibility of the legendary Broadway original, which was  conceived by its first director, the late Michael Bennett, as a   bittersweet valentine to the kids in the chorus line, the ones we tend
to take for granted when we watch a stage musical, but who supply the  essential support system for any successful show.
Debbie Guilbeault's production for Orpheus brings out the humour,  humanity and heartbreak inherent in material that gives us a  collection of young aspirants striving to be among the eight dancers  who finally will win a coveted place in an upcoming Broadway show.  And as their audition process unfolds before the audience's eyes, Guilbeault is ensuring that virtually every person involved emerges  with a defined personality. Whether it's Jasmine Lee's sweetly  vulnerable Connie worrying about her height, Morgan Coughtian's young  and naive Mike taking nimble-footed possession of the stage in I Can  Do That, or the Diana of Rebeka Tekle taking enjoyable aim at artistic  pretension in Nothing, this is a production that celebrates community  in all its disparity.
> It also brings off the material's necessary fusion of Marvin  Hamlisch's music with Edward Kleban's lyrics and a socially conscious  book by James Kirkwood and Nicholas Dante. The songs are well served  by the musical direction of Wendy Berkelaar — and in this production  they repeatedly remind us of the particular social forces fuelling A  Chorus Line 40 years ago when it first exploded on Broadway. There has  been some debate over the years about how well the characters in this  musical should be able to sing. Should they show the pristine quality  of a top-billed star? Or, given the fact that they are being  auditioned primarily for their dancing ability, should we cut them  some slack? The debate goes on, and from this corner, the singing  never seems less than serviceable in this production, emerging in the  solos as an extension of personality, and at times — as with Andréa   Black's hilarious hymn to the wonders of plastic surgery in the famous  "tits and ass" song — as absolute dynamite.  In a show notable for its solid ensemble quality, Black is a stand-out
as the brassily pragmatic Val.
Also exemplary is an enormously  affecting Jack MacDougall as Paul, who emotionally relives his
> troubled childhood in that extraordinary monologue that today is a  staple in acting classes.
> However, it could be argued that a couple of key characters are a bit  off when it comes to interpretation. Rob Henderson seems too much the  softy in his portrayal of Zach, the show's director. Although he has  one moment of genuine emotion in the show, we also need to glimpse a  character who knows the necessity of making tough and sometimes  ruthless decisions.
There's also a problem with Christa Cullain's  portrayal of Cassie, the showgirl who once seemed headed for stardom
> but now simply wants to make it into the chorus. Cullain can move  beautifully in stage, but her characterization seems indistinct —  where is the desperation that has brought Cassie to this situation? As  for the relationship with Zach that is part of Cassie's troubled  history — well, let's just say that their emotional connection seems  tenuous here.
> A Chorus Line can impose daunting dancing demands on a cast of  non-professionals The value of choreographer Derek Eyamie's  contribution to the evening is evident, not just in a lively and  creative imagination, but in his skill in determining where the cast's  real dance strengths lie, both individually and collectively, and in  harnessing them to the production's advantage.
Other contributors to  the show's success are set designer Jenn Donnelly, reminding us of the   importance of mirror imagery in this musical; costume designer Jay  Lackey, whose creations are thoughtful and related to character; and
> Chris Arnott who contributes an effective but quietly unobtrusive  lighting design.
>
> A Chorus Line.
>
> Conceived and originally choreographed and directed by Michael Bennett
> Book by James Kirkwood and Nicholas Dante
> Music by Marvin Hamlisch
> Lyrics by Edward Kleban
> Co-choreographed by Bob Avian
> Orpheus Musical Theatre Society
>
>
> Director
> Debbie Guilbeault
> Musical Director
> Wendy Berkelaar
> Choreographer
> Derek Eyamie*
> Technical Director
> Steve Jones
> Set
> Jenn Donnelly
> Costumes
> Joy Lackey
> Lighting
> Chris Amott
> Sound
> John Cybanski
>
> Zach
> Rob Henderson
> Larry
> Drake Evans
> Al
> Thomas Shapiro
> Bebe
> Erynn Paton
> Bobby
> Jeremy Sanders
> Cassie
> Christa Cullain
> Connie
> Jasmine Lee
> Diana
> Rebeka Tekle
> Don
> Blair Laugher
> Greg
> Paddy McCarthy
> Judy
> Nolla Timmins
> Kristine
> Julia Redfern
> Maggie
> Katie Shapiro
> Mark
> Matthew Chin
> Mike
> Morgan Coughlan
> Paul
> Jack MacDougall
> Richie
> Antoine L. Collins
> Sheila
> Cynthia Wood
> Val
> Andréa Black
> Ensemble
> Sierra Brennan, Spencer Cripps, DeNeige Dojack, Mélanie Evans, Rhyanna Melanson,
>
> Joyanne Rudiak, Rob Singlehurst, Sarah Smythe, Marco Walker-Ng
> Pit singers
> Sharon Dickson Jamie Rice
> Orchestra