Only Drunks and Children tell the truth: a tough-minded play fuelled by the author's background in stand-up comedy!
Reviewed by Alvina Ruprecht
15
Aug
Posted:
August 15, 2017 Tuesday at 1:02 pm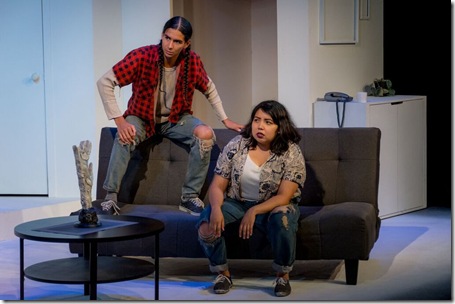 Photo: Stephen Wild. Taran Kootenhayoo and Joelle Peters.
Drew Hayden Taylor is a prolific playwright, also well known for his stand-up comic routines which bring out his corrosive and provocative humor as well as ideas that stimulate much thought. Published in 1998 and winner of the 1996 Dora Mavor Moore Small Theatre award for Outstanding New Play, Only Drunks and Children tell the truth was first produced in Toronto (1996) by Native Earth Performing Arts. This new production in Gananoque gives us a chance to see the work of an author who has not yet had enough exposure on the mainstream theatre circuit in spite of his many plays that have already been published. .
Taylor raises delicate questions about stereotypes and racism and mistaken attitudes in the non-native community of Canada with regards to native people . Here, he takes a close look at Grace, a young woman of Ojibway origin, from Otter lake, who was removed from her family by the Children's Aid Society when she was a child because the Society assumed the father had abandoned the family which was not true. She became "Janice" in Toronto where she grew up in a non-native family . As time passed, the cultural memories of her former life, slipped quietly away. The white set by designer Jung-Hye Kim shows us a symbolic place where all culture has been eradicated, as the invisible paintings and other objects that decorate the room only exist in the memory and the imagination of the owner or of those who are still in touch with her past.
The play begins in the present when her birth sister (Barb, played by a feisty and very strong Joelle Peters, ) comes to Toronto with a brother and a friend from the reserve (Tonto, played by Taran Kootenhayoo, and Rodney played by Aren Okemaysim) . They let themselves into Grace's apartment with no warning, confront her in a rather friendly raucus way, like three super-spies enjoying a secretive mission to convince her to come home because their birth mother has died and Grace should see the burial place.
At first Grace flatly rejects all these attempts to bring her home. The play therefore becomes a form of ritual done in a realistic way because the aim of this encounter with her siblings and friends is to produce a deep transformation in the attitude of the young women so she will agree to leave the city.
The play is extremely interesting even though the first act seems to drag on a bit but we feel that the staging had a lot to do with the sense of slowness that made that portion of the evening less convincing.
There is a lot of playfulness on the part of the young men who tease and bring out their local jokes about being "indian", mainly to show the audience that all the sterotypes held by Canadians of non-native origin are wrong. That is the stand-up part of the author's performance skills that often appear in the text. On the other hand, even if the boys are young, playful , they are not at all at ease in Toronto and this comedy routine becomes both entertainment for the audience's benefit as well as an attempt to show us how alienated they really are in the big city. The music and sound effects often have the effect of a huge joke tossed into that space to emphasize the irony of the situation and Vanessa Imeson's mostly grungy costume mixtures contribute to that frame of mind.
However Roseanne Supernault's (Grace's) performance creates a certain malaise. Her responses are slow, she seems to have lost her sense of rhythm, the actress seems too self conscious and not ready to assume her role in this situation. She appeared to be uncomfortable, lacking in stage experience which is probably not true because her bio in the program shows us the contrairy.
On the other hand the boys, confronted with her reticence to react, appear to be constantly overacting which is certainly not the effect they would want. Director Lisa C. Ravenbergen might have tightened up the general rhythm of all the responses in Act I just to even out the performances and make the situation move along more rapidly. That final playful seduction scene where Tonto tries to convince Grace what a fun-loving macho Ojibway he really is, is of course a stand-up comic game but the actor appeared be too boyish to even undertake such a game, especially in the company of those two young women who appeared much more mature than the males .
However, Act II changed the focus and the performance became a more intense experience. As the title suggests the two sisters bond in a most beautiful session of drinking wine . As they slide into a smooth alcoholic haze, many truths emerge and the play reveals a much deeper relationship among all of them.
They try to capture what in fact it means to be native by attempting to articulate the question of identity, in spite of the alcohol and during those conversations, the girls perform a fascinating language lesson, a most important moment in their hazy encounter.
Actress Roseanne Supernault regained her composure by the end and in an all too brief but very moving monologue , she addresses a final greeting to her mother in Ojibway. This became the perfect ending to a difficult struggle that deeply touched us in the final moments of the performance. .
Only Drunks and Childen Tell the Truth by Drew Hayden Taylor runs at the 1000 islands Playhouse in the firehall Theatre, in Gananoque from August 11 to 26
Produced in Association with Western Canada Theatre, Kamloops, BC.
A production of Western Canada Theatre, Kamloops BC.
Director: Lisa C. Ravensbergen
Set designer: Jung-Hye Kim
Costumes: Vanessa Imeson
Lighting: Rebecca Picherack
Sound: Doug Perry
Cast: Tonto Taran Kootenhayoo
Rodney Aren Okemaysim
Barb Joelle Peters
Janice (Grace) Roseanne Supernnault