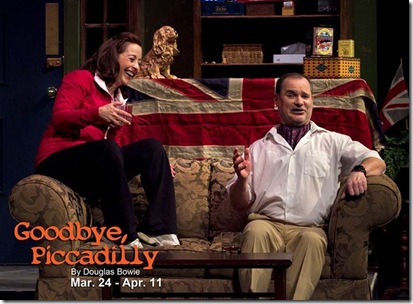 Photo. Maria Vartanova.
The cast of Ottawa Little Theatre's production of Goodbye Piccadilly faces the daunting challenge of finding and maintaining a convincing dramatic line for a play that springs from a preposterous situation and seeks to blend honest pathos with moments of potentially destructive comedy.
Douglas Bowie's play doesn't make it easy with sequences that, in less experienced hands, could disintegrate into farce. But under the guiding hand of director Sarah Hearn, the production finds balance and nuance as the play explores the strange circumstances surrounding a beloved local citizen's death and the upheavals it causes among his survivors.And when it comes to survivors, there are more than we first expected. We initially meet Bess Brickley, sympathetically portrayed by Janet Uren, in a state of bustling excitement over the news that husband Brick has been awarded the Order of Canada. It's November, and Brick is supposed to be off on his annual late autumn canoe trip in Algonquin Park — but he isn't. The euphoria Bess has been experiencing is suddenly crushed by an overseas telephone call to the Brickley family's rural Ontario inn. It comes from London, where Brick has been found dead on a park bench in Leicester Square.
The news comes as both a shock and mystery. Why was Brick overseas when he was supposed to be canoeing in Algonquin? It gradually becomes clear that he has been living a double life for more than four decades.
Bowie isn't the first playwright to explore this kind of situation. It also inspired British farceur Ray Cooney to write Run For Your Wife, a huge hit. But Goodbye Piccadilly has a more serious intent as it examines the various faces of love and loss through the perceptions of Bess and daughter Bobbie (Joyce Landry) and the two overseas strangers Kitty McCooey (Arlene Watson) and son Cecil ( Andi Cooper) who land on their doorstep.
As a playwright, Bowie has a sharp eye for the comic moment. But Sarah Hearn's direction ensures that it's comedy which arises naturally out of character and clashing temperaments. So although there are some genuinely funny passages, they — along with the rest of the play — are tinged with a certain ruefulness.
As daughter Bobbie, Joyce Landry manages to give us a young woman in which a gift for natural laughter vies with a more sobering awareness of the nature of loss. A sprightly Andi Cooper reveals an essential sweetness of disposition in his portrait of Cecil, the well-meaning stranger from abroad, with Arlene Watson (who also sings beautifully in this production) portraying his mother, Kitty, with a quiet dignity.
Mike Kennedy has the trickiest part of all as the shade of the deceased Brick Brickley, who finds himself wandering through the world of the living, desperate but helpless in his yearning to see those he once loved brought to harmony with one another. Kennedy's performance manages to be solid and ethereal at the same time — no small achievement.
However, the cohesiveness of the production is hampered by multiple scene changes that — unfortunately — do not flow smoothly in the setting conceived by designer Andrew Hamilton. Nevertheless, Goodbye Piccadilly remains a show with genuine heart.
Goodbye Piccadilly by Douglas Bowie
An Ottawa Little Theatre production continuing to April 11
Director: Sarah Hearn
Music direction: Skye MacDiarmid
Set: Andrew Hamlin
Lighting: David Magladry
Sound: Lindsay Wilson
Costumes: Monica Browness
Cast:
Bess Brickley…………………………………….Joyce Uren
Roberta Brickley…………………………………Joyce Landry
Cecil McCooey…………………………………..Andi Cooper
Brick Brickley……………………………………Mike Kennedy
Kitty McCooey…………………………………..Arlene Watson