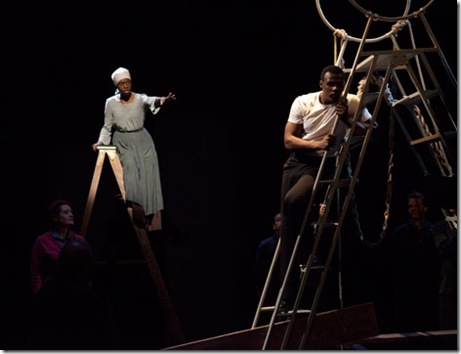 Photo by Barb Gray
Oil and Water by Robert Chafe doesn't really get off the ground until about two-thirds of the way through its hour and twenty-five minutes, (with no intermission), running time. It purports to be the story of Lanier Phillips, a black American sailor who was rescued in 1942 along with 40-some white sailors from a shipwreck off St. Lawrence, Newfoundland. His non-racist and benevolent treatment by the villagers, who had never seen a black man, was a pivotal event in his life. He became an activist for civil rights and also maintained his connection with the people of St. Lawrence.
Sounds like a great story, but most of the details never make it to the stage. The many scenes with Lanier and his daughter 30 years later during the school riots in Boston intercut with those of the miners' families in the village dealing with mine safety and lung disease, hijack the play and the shipwreck story. The script tries to follow too many characters. When the audience has no idea what's going on unless they've read the program notes, something's very wrong. With the shipwreck, the play finally gets on track, but by then we don't much care.
That said, there are some good things about the production. Shawn Kerwin's abstract minimalist set is clever and works very well, allowing Director Jillian Keiley to create some stunning stage pictures, accented by Leigh Ann Vardy's expert lighting. Miss Keiley's staging of the shipwreck is very creative and effective. Composer Andrew Craig's music is nicely performed under the direction of Kellie Walsh, but the constant vocal underscoring becomes intrusive and annoying.
As for the cast, Jeremiah Sparks as the older Lanier gives a ponderous and unemotional performance, while Starr Domingue as his teen-age daughter begins on such a shrill and over-emotional level she has no place to go.
The excellent Petrina Bromley gives us a stalwart and complex character as Violet and plays very well with Alison Woolridge, very good as her camera-toting friend. Their dressing scene with the powerful Anderson Ryan Allen as young Lanier is a wonderful combination of humor and embarrassment. It's one of the strongest and most human scenes in the play.
Unfortunately Director Jillian Keiley made a curtain speech pointing out that this is the fourth production of "Oil and Water," and that she felt it was ready for the NAC. Although some of the staging and acting is good, the play itself is certainly not ready for prime time. That's too bad, as Lanier Phillips' story is an emotional and interesting one that, in this case, gets lost amidst the clutter.
"Oil and Water" at the NAC through May 31
"Oil and Water" by Robert Chafe, An Artistic Fraud Production of Newfoundland Production, presented by the NAC English Theatre
Creative Team
Director: Jillian Keiley
Musical Director: Kellie Walsh
Composer: Andrew Craig
Set: Shawn Kerwin
Costumes: Marie Sharpe
Lighting: Leigh Ann Vardy
Sound : Don Ellis
Cast
Phillips: Anderson Ryan Allen
Adeline: Neema Bickersteth
Violet: Petrina Bromley
Bergeron: Clint Butler
Vonzia: Starr Domingue
Langston: Mike Payette
Levi: Mark Power
John: Joey Richardson
Lanier: Jeremiah Sparks
Ena: Alison Woolridge