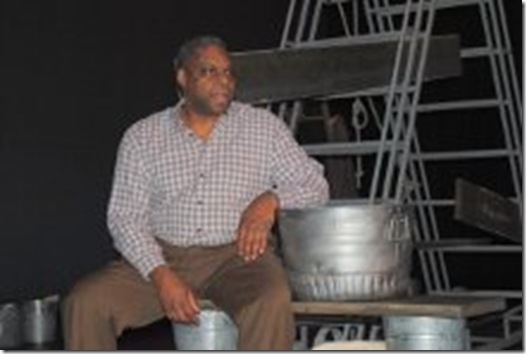 Reviewed May 16 for the Ottawa Citizen . Photo by Barb Gray.
Clearly, it seemed like a good idea at the time.
Take the true story of an African-American sailor named Lanier Phillips, who was shipwrecked on the shore of St. Lawrence, Nfld. in 1942. Blend in the troubled lives of fluorspar miners and their families in that same small, isolated village. Occasionally fast forward three decades to when the now-older Phillips is encouraging his young, scared daughter as she endures the often-terrifying integration of Boston schools in 1974. Add music rooted in spirituals and east coast folk tunes. Then underpin everything with themes of transformation, exploitation and basic human decency.
Alas, all this intercutting of stories and places and times by Newfoundland playwright Robert Chafe and his collaborator/director Jillian Keiley is for the first two-thirds of the show not only a nervous jumble but also a bit of a yawn.
The play does eventually take a deep breath and settles down, but you wonder why it didn't just do so in the first place.
The young, shipwrecked Phillips is played with an engaging mix of obstreperousness and uncertainty by Anderson Ryan Allen. Raised in racist America, Phillips can't at first believe the kindness of the white Newfoundland villagers who, having never before seen a black person, rescue him.
Chief among those rescuers is Violet Pike (the excellent Petrina Bromley), a set-jawed, barb-tongued woman with a grade one education whose bond with the sailor brings out her nurturing side.
Jeremiah Sparks is the older Phillips. Presumably meant to be dignified, his character comes off as so principled as to have almost no personality, and the early exchanges with his daughter Vonzia (Starr Domingue who grows into her role) are stilted and uninteresting.
As the play, which is sometimes very funny, flips back and forth between its various storylines, Chafe sets up parallels between the oppressed miners – including Violet's silicosis-stricken husband John (Jody Richardson) – and black Americans. Sometime it works, other times it's just heavy handed as when Phillips, having swallowed seawater and oil, and John start coughing at the same time.
And while an a cappella rendition of the spiritual There is a Balm in Gilead is lovely and Neema Bickersteth, who plays Phillips' ghost of a great-grandmother Adeline, sings beautifully, composer/arranger Andrew Craig has also given us acres of hummed musical accompaniment that quickly becomes an annoying ornamentation and occasionally obscures the characters' lines.
Keiley, in her role as artistic director of NAC English Theatre, opened the current season with a remake of Moliere's Tartuffe set in Newfoundland. It rocked. Oil and Water closes the season. It shuffles.
Continues until May 31. Tickets/information: NAC box office, Ticketmaster outlets, 1-888-991-2787, nac-cna.ca
Oil and Water
An Artistic Fraud of Newfoundland (St. John's) production
National Arts Centre Theatre