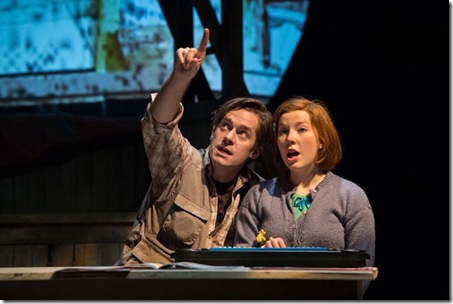 Photo: David Cooper
Blue Moon by Lucia Frangione, directed by Daryl Cloran.
The world premiere of Canadian playwright Lucia Frangione's new play "In a Blue Moon" is definitely worth a trip to Gananoque. It tells the story of Ava, a widow, (Anita Wittenberg), and her six-year-old daughter Frankie, (Emma Tow – Miss Wittenberg's real-life daughter), who move to an inherited cottage. There they find Will, (Brett Christopher), a free-lance photographer and Ava's brother-in-law, already in residence. As their relationships change and grow, we find ourselves increasingly caught up in their emotions and lives.
Drew Facey's abstract and creative wooden cottage is backed by a giant moon. The cottage has an upper level which functions as both a bedroom and the roof. There's also a free-standing and very slammable door. The moon is used as a screen for Conor Moore's terrific projections and his lighting is also very good. John Gzowski's music and sound are very effective and the costumes, designed by Marian Truscott, are just fine. I loved Frankie's pajamas.
The cast is first rate and evenly balanced. Brett Christopher's Will gradually becomes more and more complex as he struggles with his growing attachment to both Frankie and Ava. As Ava, Miss Wittenberg is even more complex, particularly when speaking of her husband's death. As she explains, "It's hard to love someone you lose respect for."
Miss Tow gives a remarkable performance as the six-year-old Frankie. She shows Frankie's budding interest in the arts, scratching out notes on her violin and flinging herself about in improvised dances. The projected photos of her mother and six-year-old self help connect us with what we see on stage. In the final scene we see the now teen-age Frankie in an audition dancing en pointe while playing a lovely violin solo. Miss Tow is a very talented young actress.
Daryl Cloran has done a fine job of directing this delicate piece. The staging is creative and the characters fully fleshed out and three dimensional. I realized I'd taken very few notes – a good sign that I was absorbed in the play. At the end I wanted more. My neighbor put it very well. She said, "It's like reading a really good book and you don't want it to end." Exactly!
"In a Blue Moon" by Lucia Frangione in the Firehall at the 1000 Islands Playhouse through August 28. Tkts: 613-382-7020
Produced by 1000 Islands Playhouse in association with Western Canada Theatre, Kamloops, BC and Arts Club Theatre Company, Vancouver, BC
CAST
Will – Brett Christopher
Frankie – Emma Tow
Ava – Anita Wittenberg