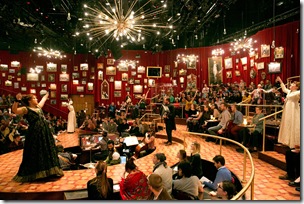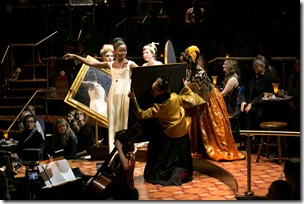 Photos: Evgenia Eliseeva/American Repertory Theater
Mimi Lien's extraordinary set for Natasha, Pierre, and the Great Comet of 1812 plays a vital role in the success of this beautiful production. Cambridge's Loeb Drama Center remade its playing area expanding the idea of theatre in the round into immersive theatre where performers mingle with the audience. This musical piece is set in a cabaret where every audience member is a guest. A minority of the public sits at tables in front of, to the side of, behind, and on the stage, sometimes joined by actors playing a scene. The predominant playing area has several levels. For most of the show Pierre, at times with musicians, at others alone, is in a prominent sunken circular space where he plays the piano, sings, and berates himself. A similar space holds a group of audience members. The larger public shares the theatre proper with performers, particularly the ensemble who at times race up and down the stairs, while singing and playing instruments, and stopping to perform, especially dance, on specially built platforms.
It is a colorful production in every sense of the word. Red velvet curtains, hung with mirrors, bric-à-brac, and pictures, cover the walls. A full body likeness of Napoleon dominates. The floor is painted to resemble red and orange tiles. Modernist chandeliers cover the ceiling of the theatre.
Bradley King's fantastical and bold lighting design accentuates mood and atmosphere. Although I am not a fan of strobe lighting, it is well used in a scene that portrays drunkenness. Paloma Young's eclectic and sometimes achronological costumes catch the spirit of the production. The childlike, yet sexy Natasha wears a collection of beautiful white outfits.
The lyricist, writer, and classically trained composer, Dave Malloy turned to rock, jazz, and electropop when he became professional. He has created several notable musical works adapted from the classics as he did with Natasha, Pierre, and the Great Comet of 1812. The score relies on a number of styles including klezmer, ballads, early Kurt Weill, classical, folk, and Russian gypsy music.
Malloy took Tolstoy's enormous historical and philosophical epic, War and Peace, and cut it into a little over two hours of playing time by concentrating on a seventy page section which deals mainly with the novel's principal female character, Natasha, as a passionate girl and Pierre, the book's protagonist. Malloy's musical takes place in Moscow shortly before it is burned to the ground by Napoleon's troops. War still seems far from the city and life is going along normally.
A sound of an anachronistic siren, representing war begins the show and as the dim lights brighten, servers appear carrying pierogis which are served to audience members. The atmosphere is very friendly as are the servers. "Prologue," the opening number, is a bouncy tune in which the plot is hinted at and the characters are briefly described at top speed as for example: "Natasha is young and she loves Andrey with all her heart … and Andrey isn't here." "Anatole is hot he spends his money on women and wine." "And what about Pierre?" "Dear, bewildered and awkward Pierre." The audience is advised to look up further information in the program. Apart from this song, most of the lyrics are taken from dialogue or characters' thoughts in Tolstoy's opus. Except for one spoken line, the piece is sung through which may be why it is referred to as an opera.
While the entire cast is strong, Denée Benton as the lovely, but rebellious Natasha, Brittain Ashford as her loyal friend and cousin Sonya, and Scott Stangland as Pierre are standouts. Ashford provides one of the more moving moments when she sings "Sonya Alone."
Director Rachel Chavkin has been with Natasha, Pierre, and the Great Comet of 1812 since its inception in 2012 when it opened at the Ars Nova, a 99 seat house in New York, and again in the spring of 2013 when she directed it for a small tent-like venue in New York. The 500 seat Loeb theatre brought new blocking problems, which Chavkin solved with panache. Much of the show's excitement and energy is owed to her.
Next fall, Natasha, Pierre, and the Great Comet of 1812 will be returning to New York where it will make its Broadway début.
Musical with book, music, and lyrics by Dave Malloy. Adapted from War and Peace by Leo Tolstoy. Directed by Rachel Chavkin. Presented by American Repertory Theater at the Loeb Drama Center, Cambridge, MA. The musical runs through January 3, 2016.
Photo Evgenia Eliseeva/American Repertory Theater