Narnia Comes To Enchanting Life at Stratford
Reviewed by Jamie Portman
05
Jun
Posted:
June 5, 2016 Sunday at 1:39 pm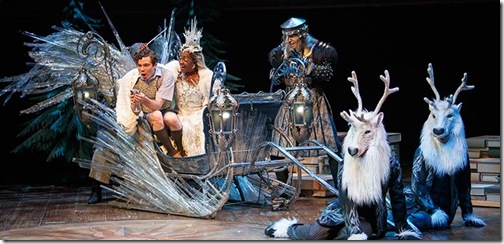 Photo: David Hou .
 The Lion, The Witch and the Wardrobe, Inspired by the C.S.Lewis cycle of Narnia stories. Directed by Tim Carroll, Sets by Douglas Parashuk. Lighting by Kevin Fraser,Projections by Brad Peterson, Sound by Todd Charlton, Costumes by Dana Osburne and Puppetry by Alexis Milligan.
There is no high-tech exhibitionism in the Stratford
Festival's new production of The Lion, The Witch And The Wardrobe.
Lavish computerized effects, the kind that can dwarf  a story into
mush, have been banished from the stage of the Avon Theatre.
 
Director Tim Carroll is confident enough to believe that more
traditional stagecraft can engage a child's attention and unleash a
young viewer's powers of imagination. To be sure, modern theatrical
devices are employed — back projections and a seductive soundscape are important elements here. 
But so are astonishingly simple moments of
inspired creativity.
 
At the beginning, projected images and thunderous sound do  evoke the
horrors of the London Blitz, but there's also an unashamed concession
to simple make-believe as four young evacuees seat themselves in a
mere sketch of the railway carriage that will transport them to safety
in the countryside.
And then, moments later, their departure dissolves into comic whimsy
with the sight of a tiny toy train chugging its way across the Avon
stage.
 
So there is an assured lightness of touch in Stratford's take on the
first installment of C.S. Lewis's much-loved cycle of Narnia stories —
or rather on poet Adrian Mitchell's stage adaptation  of that book.
Admittedly, there's an old-fashioned tinge to the play, a touch of the
archaic to some of the dialogue — so yes, it is possible to shake your
head and ask, "Did kids EVER talk this way?" However, it's equally
possible to respond with a straightforward — "Who cares?"
 
When C.S. Lewis transported the four Pevensie out of London to the
eccentric Professor Kirk's house, and from there through a mysterious
wooden wardrobe into an enchanted world where "it's always winter and
never Christmas" and good people are turned to stone, he was creating
his own particular place of the imagination. It  was a place that
infuriated Lewis's fellow Inkling, J.R.R. Tolkien, who far preferred
his own Middle Earth. But, Narnia has remained very much alive for
more than half a century and its arrival on Stratford's 2016 playbill
is proving to be a canny piece of programming. Many performances are
selling out rapidly.
 
Tim Carroll, a British director who takes over the helm of
Niagara-on-the-Lake's Shaw Festival next season, has an obvious love
for the material. Indeed, his program notes revisit his own childhood
response to The Lion, The Witch And The Wardrobe when he read it for
the first time. He also writes of the hazards involved in recreating a
much-loved story for another medium. He cites Aslan, the wise and
heroic lion, as a creature that each of us reading the book will
envisage differently. In directing this material for Stratford,
Carroll talks of "the need to create something that leaves room for
the imagination."
 
At Stratford Aslan prowls the Avon stage with stately grace. He's a
huge and compelling piece of puppetry, a  thing of shreds and patches
that — on closer inspection — prove to be pages and covers of books.
And then you remember back in the house the quirky Professor Kirk's
study with its untidy heaps of books, and then you may think that when
Aslan speaks, he sounds suspiciously like the good professor, who is
portrayed in this production with amiable dottiness by Tom McCamus.
 
Aslan is a magnificent creation, that great leonine head signifying
nobility and goodness in the troubled world that Narnia has become.
And his death — well, his apparent death — was triggering gasps from
younger audience members opening night. Yet are clearly two human
figures  visible under Aslan's scrap-paper hide, working his movements
and helping give him an astonishing degree of presence in this
production. Does the sight of the puppeteers matter? No more than the
fact that it's people who are visibly moving about those snow-covered
evergreen trees that greet the children when they pop out of the
wardrobe into. In such instances, room is being left for our own
imaginations to adjust, and the end result can be beguiling.
The tone of the production is such that adult actors can play the four
children and not have their involvement questioned. So we have Sara
Farb utterly charming as that sweet-natured believer, Lucy; Gareth
Potter, suitably stalwart as Peter, the young-sword wielding foe of
evil; Ruby Joy, caring and motherly as Susan; And Andre Morin, very
good indeed as Edmund, the saga's conflicted young Judas.
Director Tim Carroll has some exceptional colleagues helping work the
show's magic. Among them, Douglas Paraschuk  (sets), Kevin Fraser
(lighting), Brad Peterson (projections), the late Todd Charlton
(sound), David Ben (magic) and Alexis Milligan (puppetry).
But Dana Osborne's costumes are a particular delight, as irresistible
as an Edward Lear nonsense poem. And because The Lion, The Witch And
The Wardrobe is also a character-driven adventure, Osborne's
contributions further enhance the general delight of the performances.
Mr. Beaver's tail may seem like sheer whimsy but it's an integral part
of Steve Ross's endearing characterization. Mrs. Beaver's protruding
teeth may be seem bit much, but would Barbara Fulton's performance be
as much of a joy without them?
Most of the characters are so well defined, so irresistible in their
quirkiness, that keep the narrative airborne. Among the show's other
treats — Michael Spencer-Davis's oddball Father Christmas, Sean
Arbuckle's towering Giant Rumblebuffin, and the work of the
ever-inventive Mike Nadajewski as that most lovable of Lewis
creations, Mr. Tummus.
However, we could have more awareness in this production of the high
stakes involved in the story. Lewis was bearing witness to his own
religious faith in the Narnia books. He was preoccupied with the
struggle between good and evil. He was affirming the eternal
possibility of resurrection and redemption.
The destruction of Aslan the lion and his subsequent rebirth do
provide the production with some powerful moments. But they would
probably be more powerful if they were framed in a more persuasive
context. We need to be convinced that the four Pevensie children and
their friends are facing a formidable adversary in the wicked White
Witch, a despot whose tyranny keeps Narnia eternally snowbound.
Unfortunately Yanna McIntosh, a truly gifted actress, has failed to
get a handle on this role. What we get is an over-the-top exhibition
of scene-chewing villainy that plays like parody. It's excessive in
the wrong way and fails to connect tonally with the rest of the show.
There's one other concern. This is the festival's 2016 family show,
and although offering a bundle of delights, it runs well over two
hours. Near the end on opening nights, more than a few youngsters were
getting, tired, restless and cranky after being entranced by what they
were seeing earlier in the evening. Parents should therefore take due
note of the running time. In some instances a matinee performance
might be a better bet.
 
(The Lion, The Witch And The Wardrobe runs to Oct. 22. Ticket
information at 1 800 567 1600 or stratfordfestival.ca)