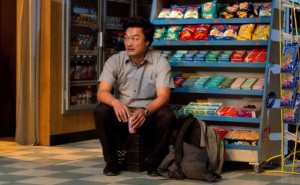 One suspects that Ins Choi's delightful comedy, Kim's Convenience, would work better in the NAC's more intimate Studio. Designer Ken MacKenzie's outstanding set will strike a chord with anyone who has ever visited a convenience store — that surprisingly enduring staple of Canadian urban life — yet it seems diminished by the yawning expanse of the NAC Theatre.
We tend to feel distanced from the all-too-real destinies being worked out on stage. And at times, dialogue is scarcely audible — a particular loss when it comes to Paul Sun-Hyung Lee's otherwise superb performance as Appa, the aging and often exasperating Korean-Canadian patriarch who owns a convenience store in Toronto's Regent Park neighbourhood.
Kim's Convenience, after all, is a closely observed study in character and culture, a piece which made its first big impact in more intimate surroundings at the Toronto Fringe Festival. After winning the Fringe's New Play competition, it has been taken up by Toronto's Soulpepper theatre company which has nurtured into a major local hit.
The play would benefit from the kind of performance venue that better serves its needs. But there are times when one must accept trade-offs in the world of the arts. The good news is that this splendid Soulpepper production is now being made available to outside Toronto — first in Ottawa and later in Winnipeg and Vancouver. It's a home-grown triumph which deserves audiences across the country because of what it has to tell us about the diversity of our national culture and of the welcome byways which are enriching our performing arts scene.
It takes us through a single day in the life of the store, beginning with the moment when a gently humming Appa arrives on the premises, puts on the lights, fusses about with the stock and awaits his first customer — an amiable soul who ends up being lectured about the virtues of a new imported beverage and the troubled history of Japanese-Korean relations. The play's comic payoffs are already rich and recurring — but in the process a flawed but memorable human being is also taking shape.
It would be easy for Appa to have emerged in this play as an overblown caricature. He is swollen with cultural pride. He is stubborn, prejudiced, controlling and ignorant. But he also is endearing, thanks to playwright Choi's playful but perceptive approach to a maddening character he ultimately wants us to view with affection, and to Paul Sun-Hyung Lee's success in defining a gruff survivor whose entire life revolves, not around his often beleaguered family, but around this store. Appa's accented English is integral to this characterization, but perhaps Lee, so outstanding in the role, should take more care in ensuring that we at least get the tenor of what he is saying during some of those wonderful comic exchanges.
Soulpepper artistic director Albert Schultz has provided a robust remounting of Weyni Mengasha's original production, and the cast responds beautifully to the needs of this funny, humane play. Grace Lynn Kung delivers a knockout performance as the feisty daughter who has long yearned for Appa to reach out to her emotionally. Her turbulent relationship with the father who wants her to take over the business provides the play's most powerful observations on ethnic/generational conflicts — but there's nothing glib or facile about the way these scenes are drawn. Janet can be as stubborn as her parent — also, significantly, as determined as he is to conceal an inner vulnerability.
Jean Yoon, fragile as a drifting leaf, is warm and sympathetic as Appa's wife, although the part seems a trifle underwritten, and playwright Ins Choi offers a likeable performance as the estranged son. Finally, Andre Sills scores a quadruple success in four wildly different roles.
After the NAC English Theatre's dismal Christmas production of The Sound Of Music, Kim's Convenience marks a memorable return to form. It genuinely does belong in everyone's list of favourite things.
Kim's Convenience by Ins Choi
A Toronto Soulpepper production presented by the NAC English Theatre
January 22 – February 8 — NAC Theatre
Director: Weyni Mengesha
Remount Director: Albert Schultz
Sets and Costumes: Ken MacKenzie
Lighting: Lorenzo Savoini
Sound: Thomas Ryder Payne
Fight Director: Sean Baek
Appa: Paul Sun-Hyung Lee
Janet: Grace Lynn Kung
Jung: Ins Choi
Umma: Jean Yoon
Rich, Mr Lee, Mike, Alex: Andre Sills