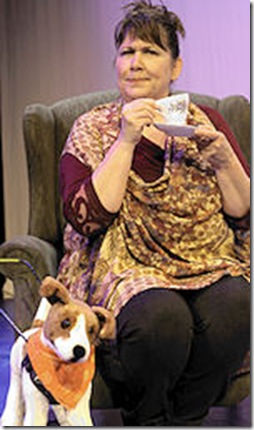 One-person shows are drearily frequent on the theatrical scene — and often they smack more of budget-controlling measures than anything else. But Geraldine Aron's My Brilliant Divorce, now at the Gladstone, is an exception. That's due, not only to the quality of the text but to Kate Hurman's terrific performance as a woman picking up the pieces of her shattered life after the breakdown of her marriage.
Hurman makes the character of Angela our irresistible confidant in this play, inviting us to share moments of rage, resentment, sorrow, despair and humiliation, but also ensuring that we also experience the release of laughter when her naturally buoyant sense of humour reasserts itself.
To a point, our response to Angela's unreeling of her miseries may seem suspect. Should we really be enjoying Hurman this much as she rants about her estranged spouse's new girlfriend, a sexpot with the voluptuous lips of Angelina Jolie? Or, as she caustically recalls her encounters with a chauvinistic divorce attorney, or as she makes a disastrous middle-aged attempt to re-enter the dating circuit?
There's a certain element of the spectator sport in our natures when it comes to gluing ourselves to the spectacle of a human train wreck — witness the addiction many of us have to the ongoing Rob Ford saga — and we can be cocooned against its full implications by knowing that it's not happening to us.
But Geraldine Aron's textured and affectionate script offers a bouquet of opportunities to an attentive actress. The play, discreetly directed by the reliable John P. Kelly, has a natural flow at the Gladstone. And, thanks to Hurman, who also takes on a variety of other roles, we'll never make the error of regarding My Brilliant Divorce as no more than an extended stand-up routine.
The play, which provided a personal triumph for British actress Dawn French in the London production, is ultimately a study in loneliness, and Kelly and Hurman ensure genuine moments of pathos as Angela comes to terms with what to her is a humiliating tragedy in her life.
The moments of self-pity are legitimate, but what ultimately rescues Angela is her robust self-awareness. More important, Hurman convinces us of a natural good humour, which keeps reminding Angela that there's a ludicrous side to so much of her current misery — be it a frenzied display of hypochondria or her embarrassment at paying a solitary visit to a sex shop.
My Brilliant Divorce carries the promise of a happy ending — one that may seem a bit contrived and almost too good to be true. However, despite its warm heart, it remains a play about being alone — and how one copes. But thanks to Hurman's sad, funny and always truthful characterization, it's also about the resilience of the human spirit. A performance to savour.
SevenThirty Productions and Pat Moylan Present
My Brilliant Divorce by Geraldine Aron
Gladstone Theatre to May 17. (www.gladstone.ca; 613 233 GLAD)
Starring Kate Hurman as Angela
Director: John P. Kelly
Lighting: David Magladry
Sound: Steven Lafond
Wardrobe: Patrice-Ann Forbes