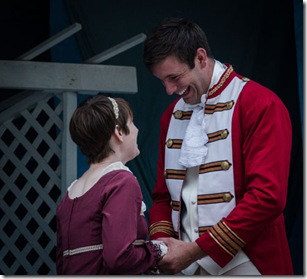 Photo.David Baker
Much Ado ABout Nothing by Shakespeare. Directed by Craig Walker. A production of the  St. lawrence Festival, Prescott
I recommend reading the excellent synopsis in the program, as this is one of Shakespeare's most confusing comedies.  Set by Director Craig Walker in the period of Jane Austin's "Pride and Prejudice," the plot twists through multiple misunderstandings, plotting, and eavesdropping.
The cast helps with the clarity, especially Michael Man as Borachio, an easily persuaded villain, and as the Friar who, in Act II, clarifies various deceptions.  Sarah English gives us a nicely three-dimensional Hero, as does Audrey Clairman as the maid, Ursula, and Jesse Nerenberg is a satisfyingly nasty villain in Don John.  Oddly, the broad acting style of Gabrielle Lazarovitz seems more suited to her Dogberry rather than her Beatrice.  However, she sings beautifully and in the opening scene she and Melissa Morris as Balthasar sing a lovely duet of an Italian Art Song.
I wasn't expecting Trevor Pease's wonderfully tongue-tied and love-lorn Claudio.  He's a natural comic and his response to Balthasar's song is giggle-inducing, without being overdone.  Jonathan Purvis is a good Don Pedro, and his choreography for the final dance is fun.  I enjoyed Dejah Dixon-Green's verse in the intermission-ending song and also Tyler Seguin's performance as Antonio, Leonato's wheelchair bound brother.
Speaking of Leonato, Richard Sheridan Willis is a delight to watch, from his smallest reactions to his Einstein hair.  He gives us a well-rounded character with a capital C.  Ash Knight is a first-rate Benedick, and his complex language is totally clear.  Mr. Knight makes this somewhat wordy character multi-dimensional, believable, and sympathetic.
Attila Clemann's light-hearted set is backed by soft blue panels and decorated with white lattice work filled with colorful flowers.  I assume he's also responsible for building the impressive harpsichord.  The costumes by Alex Amini are also very good, especially the flowing gowns.  Melissa Morris has done her usual fine job with the music, always one of the highlights of these productions.
Director Craig Walker has done a fine job of staging and directing.  There are a few occasions, though, when the staging unnecessarily lapses into burlesque such the embraces of Beatrice and Benedick.  Most of the characters are well fleshed out and the final scene is particularly good.  All in all, this is an entertaining production of a play I don't usually enjoy.  This time I did, and of course the ice cream is as good as ever.
St. Lawrence Shakespeare Festival production – Much Ado About Nothing
Runs in rep with Julius Caesar through August 20Tkts:613-925-5788
CAST
Ursula – Audrey Clairman
Margaret – Dejah Dixon-Green
Benedick, Verges – Ash Knight
Beatrice, Dogberry – Gabrielle Lazarovitz
Borachio, Friar – Michael Man
Balthasar, Constance – Melissa Morris
Don John, Sexton – Jesse Nerenberg
Claudio – Trevor Pease
Don Pedro – Jonathan Purvis
Antonio – Tyler Seguin
Leonato – Richard Sheridan Willis
CREATIVE TEAM
Director – Craig Walker
Set – Attila Clemann
Costumes – Alex Amini
Musical Director – Melissa Morris
Fight Director & Choreographer – Jonathan Purvis