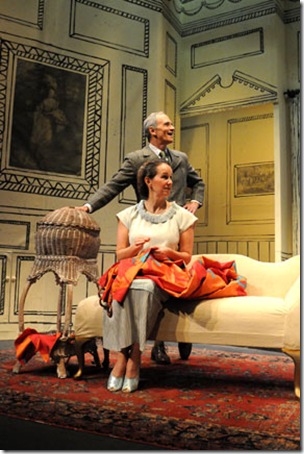 Photo: Alan Dean
Playful, fanciful, unpredictable — all synonyms for whimsical, the adjective that crops up frequently in reference to A.A. Milne's comedy of manners, Mr. Pim Passes By.
Written in 1919 and first performed by Ottawa Little Theatre in 1922, it is a fitting representative of the decade during the 100th anniversary season.
It is also a remarkable example of how views on morality and proper behaviour have changed in the intervening 90 years. The crisis created by Pim (or his faulty memory) causes the Marden family much distress in the context of the times. Today, it would probably be shrugged off or, at best, shoved under the carpet. How worried would a 21st-century couple be to find that their marriage might be invalid and that they have been living in sin (gasp) even if they were the local justice of the peace and his spouse?
Appropriately presented as a period piece, the OLT production, directed by Joe O'Brien and costumed by Glynis Ellens, gives the sense of the early 20th century, although occasionally performances are a little too campy for my taste.
Katie Norland, as the bubbly Dinah, and her fiancé Brian (William Verreault Milner) do demonstrate a believable connection to each other and Barry Caiger as Mr. Pim is suitably befuddled. Jane Morris as Lady Marden takes the hunting-shooting-fishing-jolly-hockeysticks style as hard as possible, while Jenny Sheffield as Olivia is on the brink between being charming and scheming. Robert Hicks as her husband (?) is competent but ready to step out of character as he judges necessary (hence the joking reference to set designer Robin Riddihough in listing a group of famous artists).
Not that he is wrong to praise Riddihough as an artist. The set for Mr. Pim is an absolute delight. As frothy as the script, it underlines that nothing is to be taken too seriously, while also pointing up the historical context through the sketch format and the paintings depicting animal husbandry, country living and family portraits. You might even say that looking at the brightly lit set gives as much enjoyment as Winnie the Pooh finds in honey.
Mr Pim Passes By continues at Ottawa Little Theatre to December 15.
Note: A word of congratulations to Jane Morris who took over the role of Lady Marden at two days' notice when the person originally in the role fell ill.
Director: Joe O'Brien
Set: Robin Riddihough
Lighting: John Solman
Sound: Melinda Ainsworth-Roy
Costumes: Glynis Ellens
Cast:
George Marden………………………………………..Robert Hicks
Brian Strange………………………………………….William Verreault Milner
Anne……………………………………………………Pam Harle
Mr. Pim…………………………………………………Barry Caiger
Dinah……………………………………………………Katie Norland
Olivia Marden…………………………………………..Jenny Sheffield
Lady Marden…………………………………………….Jane Morris