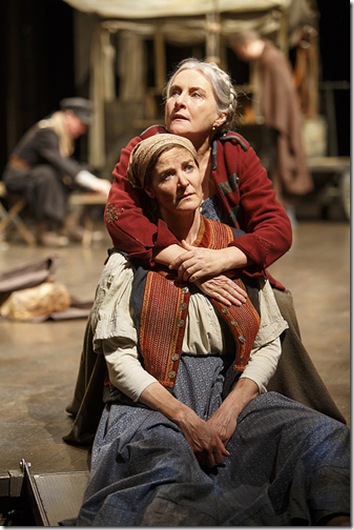 Seana McKenna as Mother Courage. Carmen Grant as Kattrin. Photo. David Hou 
STRATFORD, Ont. — The image is unforgettable — this drab, middle-aged, grey-haired mother trudging endlessly through her chosen landscape of war and misery and dubious fiscal opportunity, hauling her battered peddler's wagon behind her, her only concern the survival of herself and her grown children.
Watching a production of Brecht's Mother Courage And Her Children, you can't easily label the play's title character as a testament to the resilience of the human spirit. Well, perhaps you can in those productions where the play is allowed to turn soppy and sentimental and tug on our emotions — an approach that infuriated playwright Bertolt Brecht but one that still tempts directors disdainful of his alienation theories.
History tells us that when Mother Courage premiered in Zurich some 70 years ago, some critics approvingly commented on the maternal qualities of its central character. Brecht's enraged response was to rewrite the play to make her even harsher. Heaven help any treatment that allows her to enlist our sympathies.
But of course, she does — regardless of what Brecht might have wanted. However callous she may seem to an outside world, she still has an inner life, and in any good performance, we're going to be conscious of it.
In the Stratford Festival's astonishing new production, we're riveted by the scene in which Seana McKenna's Mother Courage is forced to gaze down on the corpse of her son, Swiss Cheese, and deny any knowledge of him. She has no other course if she is to avoid arrest and death herself at the hands of the military thugs who killed him. So, without a visible tremor of emotion, she gives her answer — no, she does not know him.
In some productions — including a previous one at Stratford — Mother Courage is allowed to break down emotionally once she's alone, but not this time. McKenna remains steely in her resolve — a resolve so intense that it almost seems unreal, and that's when we may have a flickering sense of what's really happening to her internally.
But only maybe. McKenna, so at home with the elegant cadences of Shakespearean verse or the witty drawing room sparring of Noel Coward or the hothouse emotions of Tennessee Williams, breaks stunning new ground in this performance. This is a hard-as-nails portrayal of a woman who is essentially a war profiteer, hauling her cart back and forth across the battle lines.
"Bloody hell!" she declares when peace seems imminent. "Don't tell me peace has broken out!" And she means what she says.
We're in the midst of the carnage of the Thirty Years War — a war that allows Brecht to hammer home some unpleasant facts about the role of religion in such conflicts — and moral considerations are of no consequence to this woman. She is driven only by the will to survive, by selling her goods to both sides and profiting from human misery.
McKenna gives us the ultimate pragmatist — fearing a slump in her tawdry fortunes if peace is declared, anxious as any wealthy munitions manufacturer to see the carnage continue, but still capable of coldly adjusting to the fact of an armistice and pondering new opportunities to exploit, and then grimly jubilant when war breaks out again.
Nobody is going to make a sucker out of this businesswoman. Yet all three of her children — and we sense that she cares about them, even though she won't display it — die violently. Indeed there's a dreadful irony in the fact that their deaths occur on occasions when she's haggling over various pathetic business deals.
So there is something chilling when, following the killing of her mute daughter, Kattrin, she matter-of-factly announces that she must get back to business. She, a mother who has failed to protect her children, is herself a captive of an insidious culture. The tenacity she shows in adhering to that culture may be dismaying — and McKenna can be relentless in showing this — but that's what Brecht wanted.
McKenna's performance is contained in a production of genuinely Brechtian sensibility. Crude banners unfurl to announce the scene changes. The song interludes, featuring music from Keith Thomas, a composer sensitive to sounds and sensibility of a Kurt Weill, create a further distancing effect. Yet we're still drawn into a deeper relationship with this world than Brecht perhaps wanted.
It happens despite Martha Henry's tough-mindedness as a director. She showed those qualities years ago in a remarkably uncompromising production of David Mamet's Glengarry Glen Ross. She does so again with her diamond-sharp treatment of British playwright David Edgar's pungent translation of Mother Courage. And she has provided a sturdy framework for some exceptional performances: Geraint Wynn Davies, robust yet vulnerable as the Cook; Ben Carlson as the spiritually muddled Chaplain; Jamie Mac in a spirited turn as a profane young soldier; Deirdre Gillard-Rowlings as a cheerful harlot casually adjusting her bosom in preparation for her next conquest; the ever reliable Stephen Russell doing one of his impeccable turns as a regimental clerk.
As for Courage's two sons, Antoine Yared is splendid as a sadly vulnerable Swiss Cheese, and, in the underwritten role of his restless brother Eilif, E.B. Smith still manages a study in doomed ambition. But it is their mute sister, Kattrin, who lingers most powerfully in the mind: we can't easily forget Carmen Grant's portrait of simple goodness mired in a hopeless yearning.
(Mother Courage continues at the Tom Patterson Theatre until Sept. 21. Ticket information at 1800 567 1600 or stratfordfestival.ca)