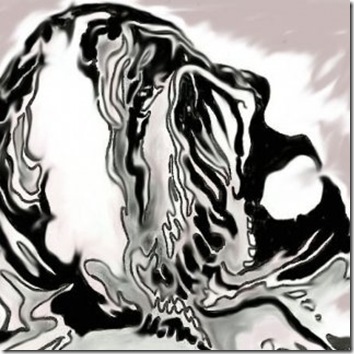 Reviewed by Kat Fournier.
Jusque dans les os   Collectif (dif)FRACTION
Written by Stéphanie Pelletier, Directed by Stéphanie Pelletier and Kathleen Aubert
Inspired by a real moment in the playwright's life, Jusque dans les os recounts a night wherein a man tried to force his way into her home. The trajectory of this play is deliberately narrow: It is a reflection on fear, imagination and the earth-shattering moment wherein the playwright's fear turned to terror. The staging is very still, and yet, the production is effective. The strength lies in the strength of the acting, bolstered through the the use of some simple props. This straight-forward play lures the audience back into a moment; the subtlety is quite evocative.
My Big Fat German Puppet Show
Invisible Inc.
Written and Directed by Frank Meschkuleit
A Steven Hawkings stand-up comedy show, a heart broken Zombie and a Reggae-singing German. What do all these things have in common? You'll have to see My Big Fat German Puppet Show to Find Out. "Life is a sexually transmitted disease with a 100% mortality rate," begins the rotund ringleader of this puppet "circus". The costuming and craftsmanship in this play are impressive, and the German ringleader has more than one trick up his sleeve (or elsewhere in his giant costume) that will certainly impresse the audience. Despite the rave reviews this play has been receiving, it just narrowly missed the mark. Though the ringleader himself was amusing, the many vignettes were ultimately quite repetitive.
Lotus
Hopegrown Productions
Written by Caitlin Murphy, Directed by Bryan Doubt
Rehtaeh Parson and Amanda Todd's stories fresh in our collective memories, Lotus is a production that is timely and important. A photo emerges on a teenage girl's Facebook account, and a rookie female cop is put on the case. The photo could be an act of bullying, but it carries a dark message that the cop can't ignore. Unfortunately, the woman who plays the teenage Amber is not the right choice for the role. Though there are some really evocative moments between the two women, the staging distracted from the believability of the story. It's too bad.