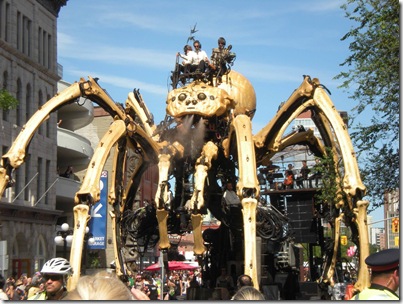 Guest reviewer Laurie Fyffe
Photo: Laurie Fyffe.
La Machine with its dueling dragon and gigantic spider has come and gone, leaving in its wake a flurry of excitement over what one can do with public space. Ottawa audiences came out in droves to witness two fantastical creates enact their fictional quest on Ottawa streets before discovering each other in a grand finale on Lebreton Flats. Given extraordinary license to tie up traffic, two mechanical beings transformed this city's boulevards and multilane, downtown thoroughfares into scenic displays of awe and wonder. Kids were hoisted aloft to gaze at monsters that roared, spewed smoke and arrived in an array of wondrous musical accompaniment.
I got up close to Kumo (Spider) in the Byward Market, and watched Long Ma (Dragon) roar her way through the intersection of Kent and Wellington. Seeing a cellist, harpist, violinists, and percussionists accompany these creations in procession was as much a treat as the creatures themselves. Watching the crowds react and tag along was also a special experience. "Look", a young woman said to her three years old, "See the dragon through the trees!" He looked at his mother in disbelief. But then, Long Ma strolled into majestic view, batting her big red eyes, gazing down at the crowd of puny acolytes trailing along. In the crush at Kent Street, another young boy wailed in distress, "It's too loud!" But after his father put him down he was twice as unhappy to lose his privileged view. Maybe he'll grow up to be a dragon slayer after all.
La Machine presents us with an instructive mystery. How to figure a town that ties up people in three hour lineups who want to celebrate their patriotism on Canada Day, and yet just weeks later clears the streets for thousands who show up to get a glimpse of two mechanical beasts enacting a myth about a pair of stolen wings.
Ok, it is all too true that celebrations of national historical significance are tempting targets for those who wreak havoc. Caution was in the air – along with a punishing amount of rain. I'm sure it helped that it didn't rain on Kumo and Long Ma. Organizers must have been extremely relieved. However, I sense that had the heavens opened, the crowds would have popped their umbrellas and the spectacle would have monster-paddled its way forward regardless.
There's no getting round it, the La Machine crowds were happy. (As happy as those waiting in line for hours on Canada Day would have been had they reached their destination.) But those happy hordes escorting the monsters swelled, flowed, and followed as if knowing what to do on cue. They clapped and cheered in between blasts from smoking nostrils. They even waved! The Gods of Theatre were smiling. The joyous procession is as ancient as days.
But the really oversized take-away from La Machine regarding civic celebrations is that while these events may celebrate the past in traditional ways, they also open doors to the future. Where do we want this procession to lead us?
Why do we not have a larger public square in the middle of this city? From Wellington right down to Laurier: get rid of the cars! Open up these city streets to more people and greenery. They are, in most cases, already broad and one-way. Why not go one bold monster-step further and create public squares and pedestrian boulevards; mark off bike paths and walkways, provide smooth access to wheelchairs. Park your car at the perimeter, or disembark the Transit-Way and walk, or catch one of many slow moving shuttles.
Then, on your way to your destination, watch the never ending show of the city in which you live, full of people shifting, drifting, debating, dancing, singing, slipping and sliding through a fully alive urban landscape doing what urban landscapes do best, keeping the culture of community alive in our downtown core.
The car was King of the 20th Century.
In the 21st, let there be dragons!
– Laurie Fyffe, Playwright & Artistic Director, Evolution Theatre
Kumo: one foot – of eight – in the right direction!
La Machine visited Ottawa July 27th to 30th. For a complete list of artists and creators go to: www.lamachine.fr/en/compagnie-la-machine/ pHoto by Laurie Fyffe