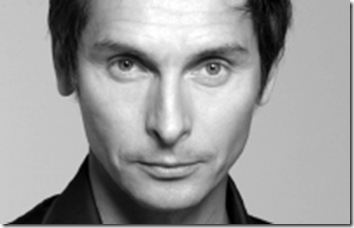 Sasha Samar
Where do our most intense feelings hide within us, and what does it take to unleash them?  Some found the answer to this question on Wednesday night (September 25, 2013) during a performance of Moi, dans les ruines rouges du siècle. I heard some young people saying that they felt a yearning to live a life as warm and filled with love as the main character's (Sasha) in his native Ukraine. I cannot imagine a better compliment for any artist.
But, let's start from the beginning. Sasha Samar is a Ukrainian actor who immigrated to Canada 1996. He lives and works in Montreal at the moment. In the Moi, dans les ruines rouges du siècle we learn about his life from the moment when his parents met, through his coming into the world, to his growing-up and living in the turbulent time of drastic change in the former Soviet Union at the end of the 1980s.
It is a story told with an amazing honesty and charged with such deep emotions that it touches us all. Although set in a different time and within a different culture, it hits so close to home and communicates easily with the diverse audience. The atmosphere of a lost era and a far-away country is strongly present in every moment of the play. Rather than merely acting well, the actors live their respective roles. The sense of reality of everyday life in Ukraine is so strong that the audience feels part of it.
Sasha Samar is absolutely convincing in the role of the main character. This is to be expected, given the fact that he acts himself, but who would believe that Robert Lalonde and Geoffrey Gaquère do not! They are so authentic that it never for a moment feels like acting. Annic Bergeron and Sophie Cadieux strikingly capture the frenzy so characteristic of a period during the disappearance of a familiar world. 
The play is created as a series of snap-shots from the memory of Sasha as a child and as a young adult. It portrays an intimate picture of every-day life in Ukraine with love and warmth, as well as a sense of realism. Everything is there, from lovely moments of closeness to harsh ones filled with loss and sadness. As images of time pass before our eyes, a new era approaches. Symbols of different periods, such as parades and crazed dancing, are used very effectively to represent the passage of time. Geoffrey Gaquère, as Sasha's fellow actor friend, is magnificent in interpreting a man whose world is destroyed and who, unable or unwilling to accept the new one, goes to a dark place of anger and frustration. 
The leitmotiv of the play is Sasha's search for his mother, but the pinnacle is the scene when his father dies as a victim of Chernobyl's deadly radiation aftermath (after the nuclear plant's malfunction). In the poignant scene of his last moments, which he spends in Sasha arms, the director creates a memorable picture of everything that the play presents: sadness (father's death) framed by the warmth of love (Sasha's arms around his head as a frame for the picture).
.
This is a true story, and as such, very difficult to tell through the medium of theatre. Olivier Kemeid almost succeeds. Still, the big picture somehow still eludes us. Despite a number of very strong, impeccably executed scenes, the connections between the dots are missing. There is no connection, however subtle, between Sasha's life story and the way his life circumstances influence him, so that he often seems to just be a spectator of his own life. Also, sometimes in its attempt to tell as many details as possible, the play becomes messy. The end particularly needs some rethinking. Sasha's reunion with his mother is understandably a very important part of his private life, but it failed to connect with the rest of the play.
Regardless of a lack of a firm structure, Moi, dans les ruines rouges du siècle is a beautiful play, absolutely worth your time. The audience surly thought so, judging by the standing ovation it received.
Moi, dans les ruines rouges du siècle
Produced by: Trois Tristes Tigres
Written and directed by: Olivier Kemeid
Cast:
Annick Bergeron, Sophie Cadieux, Geoffrey Gaquère, Robert Lalonde and Sasha Samar
Artistic team:
Set, costumes and props: Romain Fabre
Light: Martin Labrecque
Continues until Sep. 28. in National Art Center