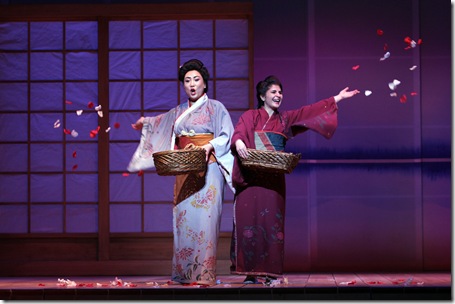 Photo Sam Garcia. Shuying li as Cio-cio-San. Arminé Kassabian as Suzuki.
Can anything be as touching as a very young, innocent, and, consequently, naïve love? Giacomo Puccini's timeless classic "Madama Butterfly" explores this simple, but tragic fact of life. A young geisha, only 15, falls in love with an American Lieutenant and marries him in the hope of everlasting, true love. The lieutenant, B. F. Pinkerton, lusts for his young and enchanting bride, but has no intention of staying with her any longer than the duration of his mission in Nagasaki, Japan. The year is 1905, and very traditional Japanese society does not give any guarantees to a woman; she is someone's wife just as long as he does not abandon her. That is exactly what Pinkerton, seemingly a selfish and unfeeling sailor intends to do. After going back home, he marries an American girl, but after coming back to Japan, realizes what he has done to Cio-Cio-San (Madama Butterfly). Although he is guilt stricken, it does not help – his actions bring death to the woman who cannot see any escape from her situation other than an honourable suicide.
The story of Madama Butterfly underlines the cruelty of the world with which women – whether as young as fifteen or much older – had to cope on daily basis during Puccini's time. If they were poor, they were often nothing more than a commodity at men's disposal and therefore lived the life of great uncertainty. In an extremely patriarchal society such as Japan at that time, a woman's fate depended on her beauty, charm and ability to satisfy her husband better than possible competition. Being only fifteen, Cio-Cio-San disregards all the hard facts and believes blindly in the power of honour and love. It is this innocence of an inexperienced mind and capacity for deep affections that makes Madama Butterfly such a tragic heroine.
Cio-Cio-San carries the weight of this opera on her shoulders as the principal character. Shuying Li succeeds wonderfully in answering all the demands of this multi-layered role. She is not only an excellent opera singer, but also a living and breathing Madama Butterfly the whole time. Her posture, movements, and facial expressions are absolutely authentic and her emotions are realistic. She transports us to a different time and different place and connects with the audience easily, partially thanks to the grace of the heroine, partially because of the sincerity with which she plays the role. Her strength as a singer and an actor comes to light especially towards the end of the performance, when the tragedy culminates. She definitely makes the last moments of Madama Butterfly's life memorable. 
Other characters, although very well sang, could still use a bit more instruction in acting. Except for the very short, but effective role of an American diplomat, Sharpless (James Westman), and the excellently developed character of Suzuki (Arminè Kassabian), the other characters feel a bit undefined and out of time and place from time to time. The director could lead the show in more rhythmic and natural movements. Also artistically designed lights that give the illusion of nightfall and dawn close to the end of the performance could be used more. With the minimalist staging, the lights are crucia, as they add an atmosphere and complement emotionally charged moments.
Overall, in spite of a few pitfalls, "Madame Butterfly" is a well-executed and enjoyable performance. It plays in he National Arts Centre, Southam Hall on April 21, 23, and 26, 2014
Production:   Opera Lyra Ottawa:
Madama Butterfly
By:  Giacomo Puccini
Libretto: Luigi Illica and Giuseppe Giacosa
Stage director: Francois Racine:
Conductor: Tyrone Paterson
Light designer: Stephen Ross
CAST:
Shuying Li –  Cio-Cio-San (Madama Butterfly);
Antoine Bélanger – Pinkerton
Arminè Kassabian – Suzuki
James Westman – Sharpless
Joseph Hu – Goro
Soloists and Opera Lyra Ottawa Chorus
National Arts Centre Orchestra