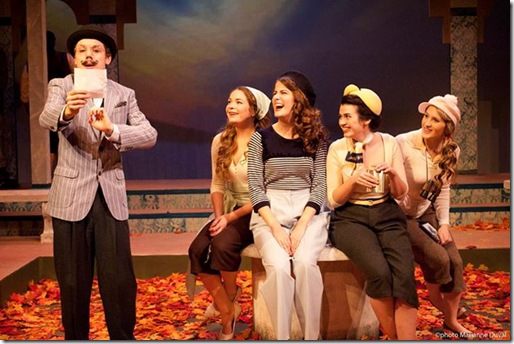 Photos: Marianne Duval.
A joyous romp in the state of Navarre (betweenthe current French and Spanish border) on a glowing autumn set designed by John Doucet where 16 student actors cut their acting teeth with the most difficult playwright of the English language! Not an easy thing to do. Apparently this is the first Shakespeare that the University of Ottawa theatre department has done in the past 15 years. Adaptations of Shakespeare have been produced but this one remained fairly close to the original with some cuts in the enormously long monologues which would exhaust any actor.
The King of Navarre declares that all his lords must sign an oath of chastity for three years! This becomes difficult  when the ladies from the French court arrive in all their beautiful dresses (thanks to Vanessa Imeson) and sexy hairdos (thanks to Sydney Miller) and swoop into the midst of these nervous young Spanish lords.  Their visit has political reasons but it soon takes another turn. The young men all fall in love, passionate love letters are secretly exchanged, sent to the wrong ladies and they all have to admit to their hypocrisy which becomes exacerbated as they try to woo back their loves by heightening their theatrical concoctions which create wonderful moments of popular comic theatre within theatre. However, the ladies of the French court  are even more disappointed. 
They impose a strict punishment on these rambunctious young men who have to be purged of their "sins" since they are no longer to be trusted. It all ends nevertheless with Shakespeare's sense of prevailing morality and all will eventually be well, perhaps. It is a play that allows for the most wonderful theatrical showmanship and I have seen productions where the character Don Armado, the fantastical Spaniard (Darcy Smith), along with this sidekick Costard (Ryan Young) have the audience rolling in the aisles .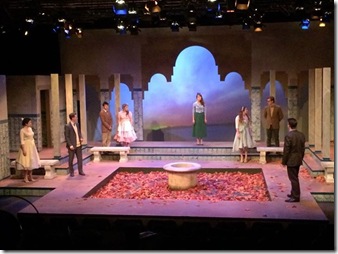 ( set by John Doucet below.)
Nothing like that here. Nevertheless, Mme Leger has done miracles. She has cast several roles that work particularly well because the actor fits into a type. There is the exceptional and magnificently earthy Carly Billings with a powerful voice as Jaquenetta , the woman who makes Armado fantasize in this hilarious parody of Don Quixote and his dear Dulcinea. Unfortunately the fun never really got off the ground because the actors couldn't do it. But it had its moments. Leger cast Trevor Osbourne as a particularly successful Boyet, the man who accompanies the delegation of French ladies. He was a strong comic character with a slithery body who reminded me of some actor from the silent screen whom I couldn't quite place. Not quite Chaplin but rather the Mexican comic Cantinflas with his moustache and bowler hat…Kayla Clarke and Hannah Redman make for an excellent comic duo as well. Raising its ugly head however, is the kind of antisemitism (even if it is questioned by many) that appears in the Merchant of Venice when, in this popular theatre scene, the character Judas, waving a Menorah, is chided for being a JU with an Ass..something that makes one sit up and take notice even if all the other characters are also caricatures.
Leger also orchestrated moments that drew our attention away from the individual performances and created group events that were much more flattering to this ensemble. The poetic readings that were often accompanied by music, thanks to Julian Bertino were mostly successful. When the four lords break their vow there is bantering and playfulness and rolling about in the autumn leaves. Curtis Gough as the king had some strong moments and used his facial expressions very well. Jon Dickey as Berowne moved like a cat among those pillars that surrounded the acting space and he captured the hypocrital games,  teasing the playful Rosaline (Katie Macneil) whose humour changed appropriately towards the end, an actress with lots of vigour and bustling energy.  The four "Moscovites" work very well  due to the fact that one can't understand what they are saying because of their accents so it was the choreography not the acting that made the difference. Several playful scenes with the Princess of France and her ladies work well, especially when the mistaken letter is read by Boyet in front of the whole giggly group.  Even if the diction was not the best, the joyful teasing that the director elicited was palpable and that held our attention.
One can say then that this was an excellent acting exercise directed by Catriona leger and the students involved should feel lucky they were chosen to take part in a theatrical experience that will have left its mark on these budding actors.  
Love's Labour's Lost by William Shakespeare plays at the University of Ottawa until Saturday, November 7. Show starts at 8pm .
A production of the drama Guild of the University of Ottawa.
Directed by Catriona Leger
Set by John Doucet
Costumes by Vanessa Imeson
Lighting by Margaret Coderre-Williams
Composer Julian Bertino
Cast: King of Navarre: Curtis Gough
Princess of France: Monica Bradford-Lea
Nathanielle: Kayla Clarke
Holoferna: Hannah Redman
Don Adriano de Armado : Darcy Smith
Costard: Ryan Young
Rosaline: Katie Macneil