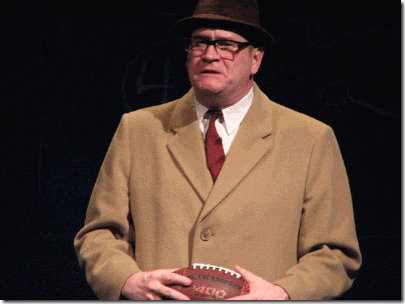 John Lenartz as Vince Lombardi. Photo-Depot Theatre
The Depot Theatre is closing out their 35th season with a first-rate production of LOMBARDI – yes, CoachVince, THAT Lombardi. Written by Eric Simonson and based on the book "When Pride Still Mattered" by David Maraniss, the play deals with the man behind the myth. We learn not only of his philosophy, but also of his relationships with his wife Marie and three of his players, Dave Robinson, Jim Taylor and Paul Horning. Set largely in 1965, it includes flashbacks to 1958, 1959 and 1964. It's structured around a series of interviews with a reporter.
Director Chris Clavelli's simple set of two armchairs and a table backed by a large green-board with the diagram of a play and a cocktail cabinet stage right works very well for the production. The action is enhanced by Isabella Byrd's excellent lighting that helps focus the changes of time and place. As always, Jean Brookman's costumes are good, especially Marie's final dress.
The cast is uniformly strong. I kept writing down "good actor." As Dave Robinson, Daryl Williams has the bearing of a real athlete. In Kevin Bunge's portrayal of Jim Taylor we get an authentic look at the beginnings of the NFL Players' Association. As the irrepressible Paul Horning, Dustyn Gulledge gives a believably irreverent performance.
Adam Petherbridge is excellent as Michael McCormick, the reporter. His performance is thoroughly three-dimensional and he's especially good in the Act II argument scene with Lombardi. As Lombardi's wife Marie, Beth Glover gives us a subtle and believable characterization that includes good comic timing, but is grounded in her genuine feelings for her husband.
As Lombardi himself, John Lenartz is simply terrific. The coach was a complex and fascinating man. Mr. Lenartz shows us the philosophy of Lombardi as it relates not only to football but to life. The coach's meticulous preparation and temper are legendary, but here we see the human being under the bluster. He obviously cares deeply about both his wife and his players.
Director Chris Clavelli has done a fine job with the staging and has helped his cast create strong characters that we really care about. He's also highlighted the play's moments of humor. You don't have to be a football fan to enjoy LOMBARDI. Yes he was a coach, but he became an iconic figure not only in sports but in 20th century America. This production gives us a believable portrait of the human being behind the icon.
LOMBARDI at the Depot Theatre through Sept.15 Tkts: 518-962-4449
LOMBARDI by Eric Simonson
Director: Chris Clavelli
Costumes: Jean Brookman
Lighting: Isabella Byrd
Set: Chris Clavelli
CAST
Vincent Lombardi: John Lenartz
Michael McCormick: Adam Petherbridge
Marie Lombardi: Beth Glover
Dave Robinson: Daryl Williams
Paul Horning: Dustyn Gulledge
Jim Taylor: Kevin Bunge