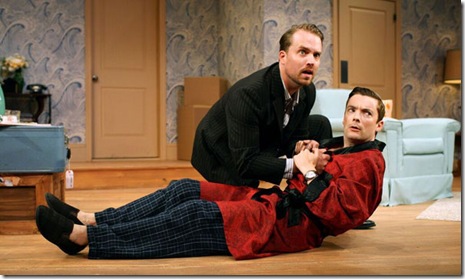 Photo: Jay Kopinski
"A Grand Time in the Rapids" by award-winning Canadian playwright Stewart Lemoine is billed as "a frivolous fast-paced farce" and it certainly is. It features Thalia, (Tess Degenstein), newly arrived in Grand Rapids from England and Ted, (Paul Dunn), an etiquette expert who arrives to monitor and direct Thalia's confession to her boyfriend Boyd, (Craig Pike), the details of her rather lurid past.
That's all I'll say, as I don't want to reveal the surprising twists of this odd-ball plot. Suffice it to say there are lots of thrown drinks, wet clothes, quick changes, and slamming of doors in this unusual farce that for a change is not about sex.
The set, designed by Jung-Hye Kim, shows Thalia's apartment with minimal furniture and a pile of trunks and suitcases framed by a brick proscenium. The wallpaper has a design of stylized waves and there are 3 good solid doors plus a swing door to the kitchen. Her costumes are also good, especially Thalia's dresses which clearly set the play in the 50s. Rebecca Picherack's lighting is fine, except that the table lamp needs to come up a couple of points when the stage lights come up.
This is a good and very nimble cast. Craig Pike's Boyd is appropriately stodgy. His idea of a romantic outing is a visit to the hydroelectric plant. Not to be a spoiler, I'll just say he's fine in everything he does. As Thalia, Tess Degenstein is just dithery enough to be believable, although her accent slips now and then.
The stand-out is Paul Dunn as Ted Todd. He's a natural comic and his vocal exercises are a hoot. Some of his etiquette pronouncements are ludicrously pedantic. When asked about the pronunciation of the word vase, he replies that "vahze is a groundless affectation."
Director Ron Pederson has done a fine job of staging, ably assisted by fight director Jonathan Purvis, who has staged some very funny fights. The first one between Ted and Boyd is hilarious and has a great ending. Somehow Mr. Pederson and his cast manage to maintain their characters despite the break-neck pace. Special kudos to apprentice stage manager Bradley Dunn, the backstage dresser, who does a remarkable job. He rightly appears in the curtain call.
My guests and I really enjoyed the play. This is the perfect time of year for a very funny and very well done piece of silliness.
"A Grand Time in the Rapids" 1000 Islands Playhouse through September 17
Tkts: 613-382-7020
CAST
Tess Degenstein – Thalia Cumberland
Paul Dunn – Ted Todd
Craig Pike – Boyd Mayhew
CREATIVE TEAM
Director – Ron Pederson
Set & Costumes – Jung-Hye Kim
Lighting – Rebecca Picherack
Stage Manager – Isabelle Ly
Assistant Directors – Jason Hall & Eric Morin
Fight Director – Jonathan Purvis
Apprentice Stage Manager – Bradley D